Playroom Clutter Control
Toys, toys, everywhere: Sometimes, that's how a playroom feels. But don't let yours be that way! With a few easy tips, you can have an organized playroom perfect for fun and entertaining.
(page 2 of 2)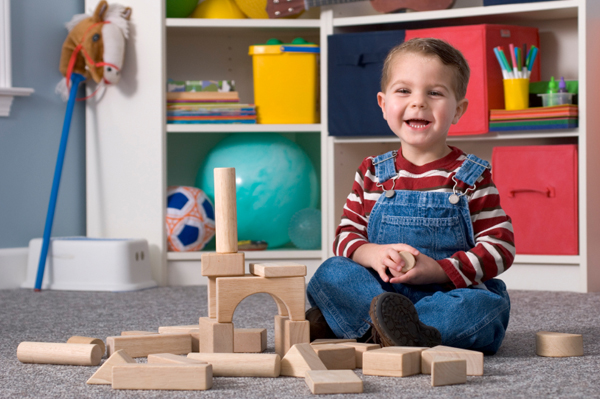 Be realistic about space.
For most families, space is a finite thing. Because you only have so much, you have to be realistic and firm about how you use it. "If you find you don't have space for everything once you're well organized, it means you have too many toys. First, throw out everything that's missing pieces, doesn't work, or is broken. Then, work with your kids to identify toys that are in good working order but don't get played with anymore; tag those to donate to charity," says Eden.
Organize from a kid's eye view.
Just because things look good from your vantage point doesn't mean that things will look good to your kids. So, find out how they are seeing your efforts. "Get down on your child's eye level and put his favorite toys within sight. Anything on a high shelf tends to be ignored or forgotten (this is a handy tactic for seasonal or special-occasion toys)," says Amanda Thomas of MoxieGirl.
Net the stuffed animals.
Stuffed animals pile up so fast, and keeping them organized seems impossible. The trick? Give them a home from which they can't fall. "Place all the stuffed animals in a net and hang them up. [Make a chain] from shower curtain rings, then stuff arms or legs through each ring," says Jamie Novak, an organizational expert and author of four books on the topic, including 1,000 Best Quick and Easy Organizing Secrets.
Rotate toys.
Remember that 80/20 rule? Use it to weed out toys, too, or to at least create a cycle of toys so that kids don't get bored. "To make toys and books new again, store some away. Then, in a few months, rotate the ones from storage. Bonus tip: To help you remember to rotate, make a note on your calendar," says Novak.
Clean -- with the kids.
Finally, have your kids pitch in with playroom cleaning so they understand the importance of tidiness and how to achieve it. "Now that you're organized, get your kids engaged in staying that way. Help them recognize how fun it is to be able to see and find all of their toys. As they're playing through the day, remind them to put away one toy before starting with the next. At the end of the day, make cleaning up a game," says Eden.
More ways to clean with your kids: