Vaccines For Teens
Vaccines continue to perplex parents concerned about protecting their children against serious diseases yet who want to avoid potential adverse reactions and immunological side effects. Here is some vaccine information for parents to ensure their teens are up to date on their vaccines before they head back to school.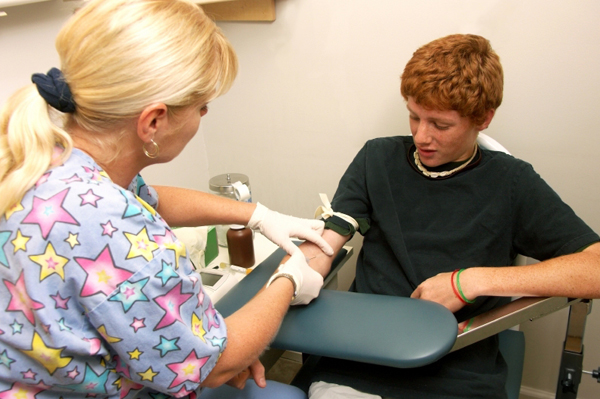 Vaccine facts
The Centers for Disease Control Advisory Committee on Immunization Practices (ACIP) recommends following a specific vaccination schedule for teens entering high school or college. Each state, however, has its own vaccine requirements, so parents should check with their state health department. In addition, some states allow exceptions to the standard vaccination requirements based on religious or personal reasons.
The CDC suggests parents of college freshmen determine if their child needs "catch-up doses" — vaccines the child should have received at a younger age.
As children get older, some early childhood vaccines may wear off and compromise a child's protection against certain diseases. In addition, children generally develop risks for more diseases as they approach their teen years. Parents should not assume their child received all their CDC recommended vaccinations before they enter high school or college.
See full vaccine info from A to Z on SheKnows Vaccinations & Shots>>
CDC vaccine recommendations for high school & college students
Recommended
The CDC recommends the following vaccines, starting with a child's 11/12-year-old checkup, or as soon as possible if he or she is older and hasn't received them:
Tetanus-diptheria-pertussis vaccine (Tdap): The CDC recommends a booster dose of Tdap at age 11 or 12. If the child is older and has already had a Td booster, the CDC suggests he or she get a Tdap shot to receive extra protection against pertussis, and then a Td booster dose every 10 years.
Meningococcal vaccine: Recommended for previously unvaccinated college freshmen living in dormitories, this vaccine prevents one of the most common types of meningitis. Meningococcal disease is a serious bacterial illness and is the leading cause of bacterial meningitis in children 2 through 18 years old in the United States. Meningitis is an inflammation of the membranes surrounding the brain and spinal cord.
HPV vaccine series: HPV is known as the "cervical cancer vaccine." The recommendations for human papillomavirus (HPV) vaccine have been modified and include the availability of and recommendations for bivalent HPV vaccine, and a permissive recommendation for administration of quadrivalent HPV vaccine to males aged 9 through 18 years to reduce the likelihood of acquiring genital warts. The CDC recommends the HPV series for girls 11 or 12 years of age, although it may be given to girls starting at age 9. HPV Vaccine: What you don't know>>
According to the CDC, girls need to receive the HPV vaccine before their first sexual contact, before they're exposed to human papillomavirus. More than half of sexually active men and women are infected with HPV at some time in their lives. HPV can prevent most cases of cervical cancer in females if it is given before a person is exposed to the virus. Protection from HPV is expected to be long lasting, but vaccination is not a substitute for cervical cancer screening. Women should still get regular Pap tests.
Catch-up vaccines
The CDC recommends older children receive the following vaccinations if they did not receive all recommended doses when they were younger:              
Hepatitis B vaccine series: Hepatitis B is a serious disease that affects the liver and is caused by the hepatitis B virus (HBV).
Measles-mumps-rubella (MMR) vaccine series: Check with your healthcare provider to make sure your child received two doses of MMR.
Varicella (chickenpox) vaccine series: If your child has not previously been vaccinated and has not had chickenpox, the CDC recommends he or she get vaccinated against this disease. The vaccine is given as a two-dose series. Any teenager who was vaccinated as a child with only one dose should get a second dose now.
Polio vaccine series: Polio is a disease caused by a virus that can enter a child (or adult's) body through the mouth. It does not usually cause serious illness, but it can cause paralysis in some cases.
Special circumstances
Students entering high school or college may need additional vaccines due to their own specific health conditions or because they were exposed to other people with age-related or health-related risks. The additional vaccines for which your child should be assessed include:
Hepatitis A vaccine series: Anyone can get infected with hepatitis A. Some teens, however, have a greater risk. These risk factors include traveling outside the United States, babysitting or having household contact with a child who was adopted from a foreign country within the last 60 days, being a male who has sex with other males, using illegal drugs, having a clotting factor disorder or chronic liver disease. Talk to your healthcare provider about this two-dose series of shots.
Influenza vaccine: The CDC recommends every person, beginning at age 6 months and continuing throughout their lifetime, should receive annual vaccination against influenza every fall or winter. The CDC believes vaccination is the most effective measure you can take to be protected from this serious disease.
Pneumococcal polysaccharid (PPV) vaccine: Pneumococcal disease is caused by Streptococcuspneumoniae bacteria. It is a leading cause of vaccine-preventable illness and death in the United States. Anyone can get pneumococcal disease, but some people are at greater risk than others: People 65 years and older, the very young, people with certain health problems, people with a weakened immune system and smokers.
Up next: Alternatives to the CDC approach >>