Celeb-Inspired Mom Fashion
Why is it that, as mothers, we can find the time to shop for and dress our kids, but our own wardrobes are often in need of a rescue? Then, of course, there are those glossy pictures of perfectly pulled-together celebrity moms smiling back at us from the magazine covers as we wait in line at the grocery store. How do they do it? Rather than bitterly turn away from the magazine rack, take some style tips from those celebrity moms who seem to have it all -- but make their looks yours on a realistic budget.
(page 4 of 5)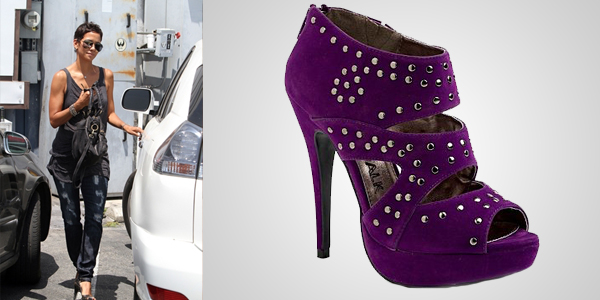 Speaking of shoes...
There are those of us who love shoes, and those of us who wear the same pair over and over again. If you fall into the latter category, buy a cute new pair (or two) and watch how they light up a once drab ensemble. Take, for example, the beautiful Halle Berry again. By pairing a classy pair of heels with torn jeans and a plain tank, she turns up the volume on a potentially boring look. Roll up a pair of jeans and wear these purple studded platforms ($36), and all you'll need is a simple tee or tank. Also, a pair of nude or black heels is a closet essential.
Up next: Pick a feature >>