Celeb-Inspired Mom Fashion
Why is it that, as mothers, we can find the time to shop for and dress our kids, but our own wardrobes are often in need of a rescue? Then, of course, there are those glossy pictures of perfectly pulled-together celebrity moms smiling back at us from the magazine covers as we wait in line at the grocery store. How do they do it? Rather than bitterly turn away from the magazine rack, take some style tips from those celebrity moms who seem to have it all -- but make their looks yours on a realistic budget.
(page 2 of 5)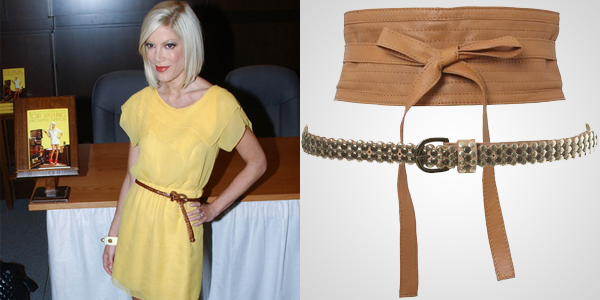 Accessories Are your friend
Celebrity moms know that a great necklace, bag or belt can turn a plain outfit into a head turner. At a recent book signing, Tori Spelling showed us how a thin, brown belt can change the shape of a simple yellow dress completely. Belts are super affordable tools to liven up an outfit with a pop of color, emphasize your curves or define your waist. Try a studded version ($23) to add a bit of an edge to a plain-Jane dress or a leather obi belt ($30) to turn an oversized shirt into a feminine silhouette.
Up next: A little lipstick goes a long way >>