Patriotic Party
Are you planning a party for Independence Day this year? Throwing one for your family and friends can be a wonderful, fun experience that creates fabulous memories. Here's how to throw an unforgettable July 4th party kids will love.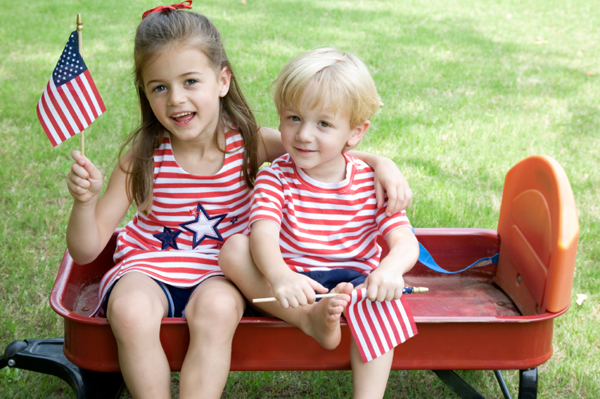 Independence Day is a fabulous holiday to celebrate with a big gathering. Between the history of the day, the fun traditions and the merriment its sure to be a party to remember -- but how can you plan a kid-friendly one?
These tips and tricks will help you plan and throw the best kids July 4th party ever.
July 4th Decorations
The best thing you can do is to keep the decorations simple. Use disposable tablecloths (in flag print or solid red, white and blue) for easy cleanup. Buy a small helium tank and fill up balloons to tie around your yard to make it festive or skip the balloons and do streamers.
Be sure to have a flag hanging too!
>> Make some festive decorations! Check out these kid-friendly July 4th crafts
Easy party food
Choosing food for any party is important because you don't want to spend more time in the kitchen then with your guests. So, don't plan a complicated meal. Simplicity works just fine.
Hot dogs and hamburgers are a fabulous July 4th tradition. Serve yours with a condiment bar featuring relish, a selection of mustards, ketchup, barbecue, sourkraut, onions, tomatoes, lettuce and whatever else your family likes. You can make it more intereresting by also including a few fun toppers too like chili, guacamole or hot sauce. Want to do something a little different? Serve marinated grilled chicken instead with rolls and toppings for a different take on the traditional fare.
Serve it with kid-friendly salads like potato salad, pasta salad and broccoli slaw. You can also serve a veggie platter with a selection of dips like hummus and ranch. For dessert, serve cut up fresh fruit and a baked good such as red, white and blue cupcakes.
>> Get more easy summer recipes here!
Drinks
What's more perfect for July 4th than a sparkling beverage? And yes, the kids can get in on it too, but you just need to make sure to keep the adult and kid cocktails seperate. Jes Gordon, author of Party Like A Rock Star, suggests garnishing nonalcoholic drinks, like her Swamp Juice below, with strawberries to make them easily distinguishable.
Looking for a recipe? Here are a few kid-friendly ideas:
Shirley Temple: In a glass, combine 1/2 cup lemon-lime soda, 3 tbsp grenadine and ice. Garnish with a wedge of orange and a maraschino cherry. Serves 1.
Swamp Juice: Combine 1.5 oz Fresh Squeezed Lemonade, 1/4 oz Pomegranate Juice, 1/4 oz Grape Juice, 1/4 oz Pineapple Juice and 1/4 oz Club Soda in a glass and add ice. Serve with a side of graham crackers.
Pomegranate Spritzer: Combine two parts ginger ale with one part pomegranate juice in a glass with ice. Granish with a lime slice and serve.
>> Get more deliciously fun drink ideas for kids here!
Next page: Kid-friendly July 4th activities and party favors