Day-Trip For The Earth
Sure, Earth Day was back in April. But any day is a good day to head out on an Earth-friendly outing with your kids. Here are some great ideas for eco-friendly fun.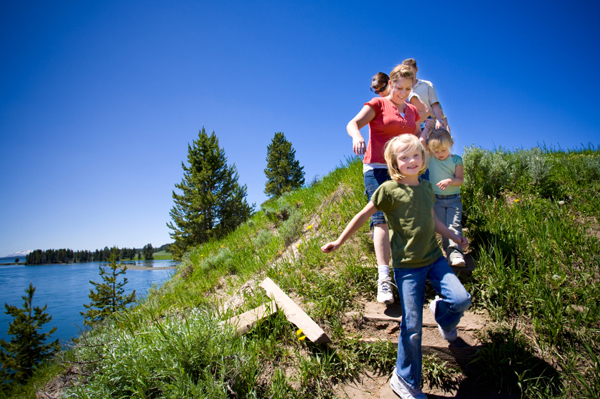 Take a hike
You can find hiking trails pretty much everywhere. Check your town's and state's parks for good places to go or head to one of the 392 national parks for a great hike.
For this outing, you will need gripping footwear (such as hiking boots), water and a lot of energy. To make the most of your hike, have the kids look for interesting things such as a fallen tree, a squirrel, a stream, etc. as you walk.
Head to the farmers' market
Going to the grocery store may be old hat to your kids, but the farmers' market is something special. There, you will find fresh fruits and vegetables as well as value-added goods like jams, pestos and more (offerings vary among markets and by the seasons).
You'll need some comfortable walking shoes, reusable bags and a little cash for your purchases. Make the whole experience more special for your kids by allowing them to do some shopping themselves.
| | |
| --- | --- |
| To find out how you can help the Gulf of Mexico Oil Spill, go to deepwaterhorizonresponse.com. | |
Get in touch at the nature center
Nature centers are the Earth-friendly answer to development. Here nature is protected and preserved, allowing plants and animals to thrive in their natural environments. Nature centers often hold exhibits, talks and more that can be fun for the whole family. No special gear is required.
Join the wildlife rescue effort
As oil continues to pour into the Gulf of Mexico, volunteers are needed to help rescue wildlife from its effects. You and your family can help by volunteering time to assist in the wildlife rescue efforts. To learn how, check out the Deepwater Horizon Response website.
Tap into archeology
If you are in the western United States, you have a great opportunity practically in your backyard: artifacts buried in the sand. Kate Niles, a former archeologist and author of The Book of John and The Basket Maker, suggests taking the kids on an archeological hunt. "If you live in the desert/arid West, wait until a good rain has soaked the ground. Then go to a field, whether or public or private, and look for arrowheads, pottery shards, etc. If you live in the Midwest, wait until a good wind has scoured the landscape. Then go to a field, preferably plowed, and see what you can find," says Niles.
Niles also suggests visiting living history sites such as Jamestown and Plymouth Plantation. "Plymouth has a terrific replica of a Wampanoag village with modern-day Wampanoags in 17th-century costumes on hand to answer all questions. Also seek out shell mounds on beaches. These are myriad and not covered by vegetation, as so much of the East is. Historic archeology can be [uncovered] at historic sites, especially the living history ones. Civil War battlefields are other good places to peek at the ground for remnant war materiel," says Niles.
More ways to raise earth-friendly kids: