Tips For A Fun Camp Experience
It all started innocently enough. Your nine year old daughter proclaimed that this was the summer she was going to take the sleepaway camp plunge --and no amount of coaxing her on your part to put it off till she was 18 could change her mind. So you dug in your heels and forked over a hefty deposit on the sleep away camp of her choice. Now, with just a month until your daughter is set to head off on her sleep away camp adventure, you're sensing she's gotten a case of cold feet. She's beginning to utter statements like; "What if I can't fall asleep at night when I'm in camp?" "What if I start to miss you and Daddy?" "Maybe I'm not ready to go to camp" followed by the nail in the coffin, "Mommy, actually, I don't want to go to sleep away camp."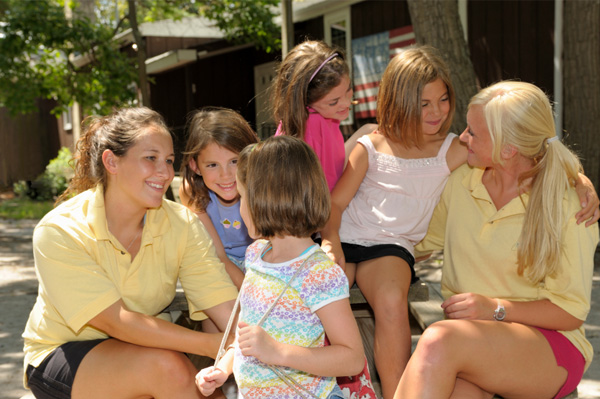 Of course it's taking every ounce of restraint NOT to wrap your big mama bear arms around her, scoop her up and tell her you'll forfeit the hefty non-refundable fee you've already paid the camp. But the truth is, it's not a monetary issue, although losing money is not something you relish, rather it's about reiterating to her the importance of following through with one's commitments. It's also a prime opportunity for you to encourage her to flex her independence, and ultimately prove to herself in the interim that she is capable of doing anything she sets her mind to. The real question is how to help her overcome her separation anxiety?
Watch your own attitude
"Parents must avoid making anxious or ambivalent statements to their children about the separation," says Frank J. Sileo, Ph.D., executive director for The Center for Psychological Enhancement, and author of Bug Bites and Campfires: A Story for Kids about Homesickness (Health Press, 2009). "Giving children something to worry about will only increase thoughts of home. Parents should express enthusiasm, confidence, and optimism about the new experience and environment."
Dr. Sileo offers these tips to help make the emotional transition to sleepaway camp easier:
Organize practice times away from home at a friend or relative's home. After the practice time away, parents should discuss which coping strategies worked best.
Work on letter or postcard writing. When your child goes to camp, supply them with pre-stamped, pre-addressed envelopes. Send a letter to your child at camp before they arrive. It will be a nice gift on their first day of camp.
Help your child to become familiar with the new environment. Take a tour of the camp, speak with alumni and staff members or utilizing web sites, pamphlets and catalogs, Familiarity will decrease anxiety!
Use a wall calendar to demonstrate perspective on the time away by marking fun activities such as day trip to the amusement park and canoe races.
Have children think about good things about their camp environment (new friends, swimming, campfires). Or have the child think good thoughts, listen to pleasant music or engage them in laughing.
Remind them that feelings of homesickness are "normal" and that homesick feelings don't last very long.
What about a "pick-up deal?"
"Under no circumstances of any type of separation, according to research, should parents make the "pick-up deal. When parents promise this deal it drastically reduces the child's success. This conveys to the child that, as a parent, you have very little confidence in their ability to cope with this "normal" feeling and that the only solution is to rescue them," says Dr. Sileo.
"This deal also plants the seed that they will not like the new environment or that maybe there is something to be afraid of there. It teaches children that the only solution to their problems is to engage in avoidance or escape and also undermines the surrogate caregivers (i.e., the camp counselors) in trying to help your child cope with their homesick feelings."
What should you pack?
Julie Cole co-founder of Mabel's Labels and author of the free downloadable ebook, Mama of Many's Guide to Camp, says that making sure your kids has all their essentials in their new environment will go a long way in helping them stave off their homesickness.
Cole offers these tips to make the physical transition to camp smooth:
Avoid packing expensive items. Don't add to the list of things your kid will have to worry about so avoid packing expensive gear that they'll stress about wrecking or losing, including fancy new clothes, expensive watches and jewelry. And of course, label everything.
Pack clothes that can layer well like swim gear and waterproof outerwear. Plan for varied weather and pack clothing for hot, cold and rainy weather and activities like; boating, hiking and water sports.
Don't forget the essentials, like extra socks and underwear. Don't forget the little things which turn into big things if missed. These include bands to tie back hair for swimming or other sports.
Make sure their toiletries are user friendly. Pack body wash as opposed to messy bar soap and make sure that they have all their prescription medicines, inhalers, spare glasses or contacts.
Don't forget sunscreen, SPF lip balm and bug spray. There's nothing worse the sunburn or insect bites ruining the camp experience.
Pack a little bit of home
Most importantly pack a little piece of home to help your little camper keep a piece of you with him at camp. "Pack small photos and little mementos from home such as a favorite toy, blanket or pillow," notes Cole who is also a fan of sending care packages with little notes tucked into them. And, of course if email is allowed, use it!"
More summer camp tips: