Olympic Mom
Celebrity Apprentice contestant and Olympian gold medal swimmer Summer Sanders dishes on everything from her charity (Right to Play)to parenting tips on raising future Olympians to celebrity sports role models and, of course, how she gets those amazing arms!
(page 3 of 3)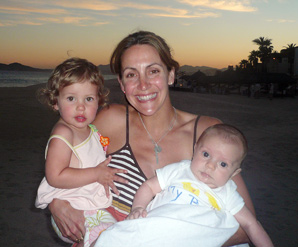 SheKnows: What advice would you give parents when their child's role model falls from grace, as is the case for many kids who looked up to Tiger Woods?
Summer Sanders: You talk about it. There lies a learning lesson. You say something like, 'I know you think Tiger is great. He is the best golfer. He is a wonderful sports model. Personal life is a different story' --  and a different lesson if he your child is old enough to understand that. I was just talking to my friend about this. How do you teach kids to feel the difference between right and wrong? You want your kids to be able to feel when they are doing something right and feel when they are doing something wrong.
My mom, dad and my brother were my heroes growing up. I think if you put superstars, actors or actresses on pedestal, you get let down. If you, as a parent, can be a role model for your kids then it is in your hands.
SheKnows: That is a great way to look at it! OK, switching gears – you have 2 kids and you look amazing! What is your secret?
Summer Sanders: This is the most I have sat down all day! I used to shake my heads at moms who said that, but I'm sure you know what I'm talking about. I am running around taking care of my kids! I have heard people have been complimenting me on my arms on Celebrity Apprentice and, honestly – my mom gave me good arm genes. I work out in the morning. I work out in tracks. I turn water on in shower. As it is warming up, I will do push-ups. Yoga has made a huge difference.
SheKnows: Do you do hot yoga?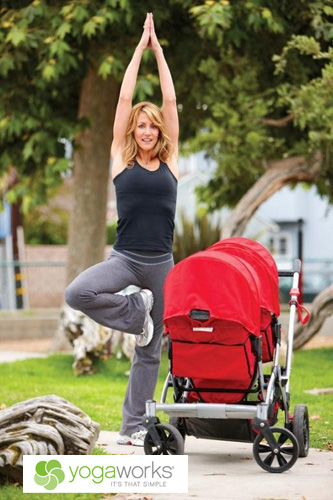 Summer Sanders: I do! I love hot yoga. We make a girls night out of it. We go to yoga – and we don't even shower which is kind of gross (laughs). We have a glass of wine and go see a movie. My relationships with my girlfriends are so important to me.
SheKnows: Speaking of your babies, you daughter is named Skye and your son is named Robert Charles Spider. What is the story behind the names?
Summer Sanders: All the names had meaning. Charles is my grandpa and Robert is my dad. My husband is a 3-time Olympian [skier Erik Schlopy] and we wanted to name him after Spider Sabich --  and I didn't have the guts to make Spider his first name! Grandpa Charles is my favorite person ever and meant a lot to me. So, he can be Spiderman or if he wants to be distinguished he can be Charles or Robert.
SheKnows: So you would encourage your kids to be Olympians? Do you feel like you missed out on your childhood?
Summer Sanders:  I didn't miss out on single thing. In fact, I felt like I got to see so much more. I stayed out of trouble. Not like I was gonna get in trouble, but I did quit for awhile before the '84 Olympics when I was 10. I thought my friends were doing fun things after school, but after a week, I thought this was this is not very fun. The time goes by fast and I realized I could easily have 1 ½ hours of practice done. Sports keeps you focused, out of trouble. I would 100% encourage kids to be in sports or something they are passionate about – to challenge themselves and feel a real sense of accomplishment.
SheKnows: I know you are a correspondent on the Rachel Ray Show and I saw the episode where you tried out for So You Think You Can Dance. Which got me thinking – would you ever appear on Dancing with the Stars?
Summer Sanders: I would love to! They actually asked me for the first season, but I was knee deep in the NBA– traveling back and forth to New York. I didn't think I could fit it in. Like I told Rachel, I feel like I'm a good dancer at weddings when I have had a few drinks, but I'm not a good dancer. I would love to do it. Not afraid to do it.
SheKnows: Has Rachel taught you any cooking tricks? Who cooks at your home?
Summer Sanders:  I cook. I like the easier versions of the more difficult dishes. We are lucky enough to have Whole Foods [grocery store]. I walk in and I am inspired to be a better cook. And that is my goal. Not over the top with it. I do give my kids gummies. Everything in moderation. Although the two thinks I do not have in the house – since I was raises with a dentist for dad – sugar cereal and soda pop.
As Moms, we do the best we can. This morning my kids were having a conversation and saying, "Thank you Sky," "Thank you, Spider." Maybe I am doing something right! I like this!
Watch Summer on Celebrity Apprentice on NBC.
More celebrity moms: