Olympic Mom
Celebrity Apprentice contestant and Olympian gold medal swimmer Summer Sanders dishes on everything from her charity (Right to Play)to parenting tips on raising future Olympians to celebrity sports role models and, of course, how she gets those amazing arms!
(page 2 of 3)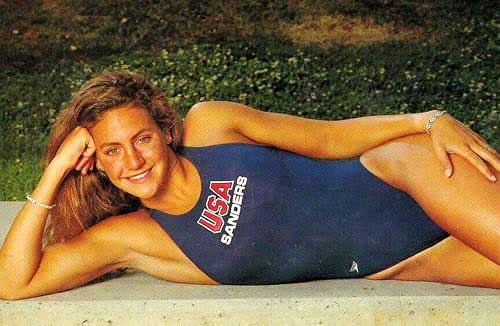 SheKnows: You are author of the book, Champions Are Raised, Not Born: How My Parents Made Me a Success. As an Olympian, what advice can you give parents wanting to raise kids who will be elite athletes and excel in sports?
Summer Sanders: My mom always said she just matched my commitment. I was actually a pretty committed kid at a young age. She said the least she could do was get me to games and practice. I think I will teach my kids to be supportive, grounded, great teammates, be accountable and thoughtful. Often times in our world today, kids want to blame someone else. 'The timers were wrong' or -- maybe it was because you didn't go to practice. That is OK. But, you tell them: "This is what happens when you don't go to practice." Take responsibility, be accountable. My dad was the one jumping up and down when practice was cancelled so I had a nice balance with my parents. The parent's job is to be parent, not coach.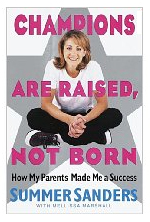 SheKnows: Can the dedication it takes to be an elite athlete be taught?
Summer Sanders: I don't know if you can teach that. I think, especially with someone like Michael Johnson on Celebrity Apprentice -- just look how intense he is. That is exactly what he is like on the blocks. That is what you assume that person is – intense, driven in an individual sport. It is deep inside you.
SheKnows: It sounds like you loved swimming from a young age. Is that part of it? Finding a sport you love?
Summer Sanders: Yes! Maybe your kid loves to play soccer because everyone else does, but if he gets kind of bored by it and by following the rules then maybe it is not the right sport. So maybe he needs to be in speed skating with lots of action. I do think it is finding the right sport. Let your kid flow to it. However, if they decide second practice they don't like it – make them stick it out. Tell them you paid $80 for them to play and make sure they follow through.
SheKnows: Did you have sports role models growing up?
Summer Sanders:  My dad took me to '84 Olympics. I fell in love with Mary Lou Retton and Tracy Caulkins. They were my heroes at that time. But the meat of my career – at age 15 – it was all Michael Jordon. I had my first pair of Michael Jordons and I wore them out! I even had #23 on my swim cap!
SheKnows: Was it hard to make the jump from Olympian to TV? I'm sure the athletes you are interviewing respect you as a fellow athlete and you have a natural rapport—right?
Summer Sanders: People used to ask me how I didn't get nervous interviewing Shaq or Jordan – I always felt like I don't even know if they knew I swam. Jordan did -- but most didn't know I was Olympian. I knew what the pressure was like with the game on the line for the NBA championship. It did make my interview easier.
Next page: Summer talks Tiger and sports role models. Plus - how she gets those amazing arms