Attachment & Your Adopted Child
The adoption process between a child and the adoptive parents is often lengthy and full of bumps in the road. During this time, most prospective parents dream of the day they are united with their new infant, toddler or child. Don't assume, however, that this new member of your family will attach to you instantly, especially in the case of international (or foster care) adoption, in which the child is not a newborn. And even in domestic infant adoption, attachment is not always immediate. With time, effort and understanding, however, you can help foster a healthy attachment for both you and your new child.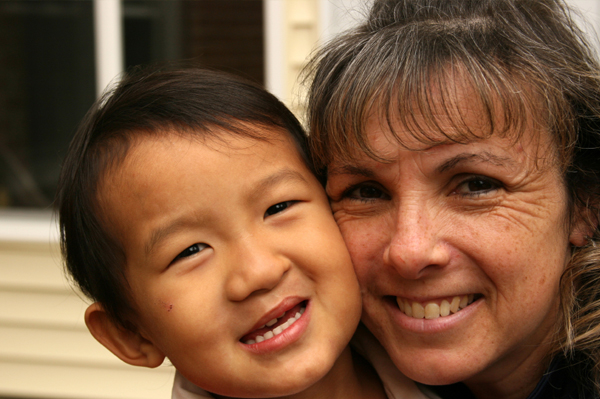 Attachment is a serious, complicated topic that a single article just can't cover completely. Many full length books are dedicated to attachment in adoption, and anything less is typically a simplified overview. As an adoptive parent or prospective adoptive parent, you should read extensively about attachment so that you can understand it, prepare yourself and know what to do with your child. Recognizing that attachment is not immediate, beginning to understand the process, and learning simple steps you can take to work toward a healthy attachment will set you off on a great beginning.
Attachment probably won't be instant
Many families who adopt overseas wait a very long time for the moment that their "new" babies are placed in their arms. When it finally occurs, some new parents are surprised and saddened to find that their baby arches his back, pushes away, cries and is generally uncomfortable with his new parents. Others become parents to babies who do not want to be set down, or who scream and cry when their new parents are out of view.
Why do adopted kids sometimes have attachment problems?
If you're not prepared and educated as to why children who have been institutionalized or in foster care act the way they do, misunderstanding or misinterpreting these behaviors is easy. In group care settings such as orphanages, your child's every need was probably not met, or at least not met adequately. Generally, the number of children in the orphanage and the number of caretakers is not equal. As such, your child may have learned that he cannot always count on his caretakers to meet his needs as they arise -- and he might need time to realize he can trust you to be there when he needs you.
| | |
| --- | --- |
| | Your child may well have bonded to one particular caretaker, or if your child was in foster care, he may have developed an attachment to his foster mom. Your child must grieve the loss of this person in his life and begin to trust you as his new mom. This is not an overnight process. |
Unfortunately, caretakers are not always affectionate toward the children. If this has been the case, your child will need time to learn how to receive love and affection from you. A child who has received minimal positive human interaction will probably not warm up to it immediately.
Alternatively, your child may well have bonded to one particular caretaker, or if your child was in foster care, he may have developed an attachment to his foster mom. Your child must grieve the loss of this person in his life and begin to trust you as his new mom. This is not an overnight process.
Imagine if you, as a child, were removed from your world and everything you know, and were thrust into a new one. Would you immediately bond and attach to the new people in your life? Doubtful! Forming attachments and trust takes time even for an adult, and children are no different. Keep that in mind as you and your new child get to know each other, especially when you feel frustrated or overwhelmed.
Bonding vs attachment
Bonding and attachment often are used interchangeably, but they are different. Bonding, which occurs when you meet your new child's needs consistently and in a timely manner, can begin immediately. Attachment, which is the relationship that grows between you and your child, occurs over time and as a result of many factors, including trust, feelings of affection and met needs. You might hear a new adoptive parent exclaim that her child attached right away, but it is more likely that child bonded quickly and is still in the process of attaching.
How is attachment in adoption different?
Katie Prigel Sharp has a master's degree in social work and is an adoptive parent. She is the co-owner of Heart of the Matter Seminars, an educational company with the mission to "prepare, not scare" adoptive families with realistic and honest adoption education. She is also the author of Adoptive Parenting From the Ground Up. Prigel Sharp feels that attaching to an adopted child is not tremendously different than attaching to a biological child. She says, "We forget that attachment is part of all parenting -- no matter whether the child was born to your or adopted."
Prigel Sharp emphasizes that humans are biologically programmed to behave in ways to promote attachment. Prigel Sharp feels that your newly adopted child will benefit greatly if you are very conscious of the attachment process and act in ways to promote attachment. It is important to learn about the bonding cycle and attachment process so that you can engage in more intense repetitions of the behaviors that promote and build attachment.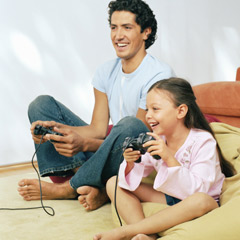 Many parents who have adopted out of the foster care system or internationally quickly realize one big difference from other routes of adoption: Their children are not newborns. They are older infants, toddlers or children who are developing their own personalities. They have been cared for by other people who, due to circumstances, probably were not able to provide the same level of care and love that a mom (adoptive or biological) would provide. They have experienced the loss of their first families. In short, they are simply not brand new to the world, and you do not know each other.
Prigel Sharp wants parents to know that sometimes attachment is fairly easy, and sometimes it is difficult. Parents who have already adopted probably realize this. Two families with children adopted at the same age and from the same orphanage may have very different experiences. Having a more difficult time with attachment does not mean that you and your child will not form a healthy attachment in the end. In fact, Prigel Sharp notes that although we used to hear only about cases of extreme attachment disorders (often sensationalized by the media and movies), most children who do not attach extremely easily are only mildly to moderately affected. Being aware of this and remaining committed to working toward a healthy attachment, with professional help if the situation calls for it, is key.
Next page: Tips for helping your adoptive child attach and form bonds
More From SheKnows Explorer