Avoiding Step-Parenting
Minefields
Becoming a step-parent can be a blessing... and a gigantic stress. There are certain things, certain minefields, that step-parents should avoid to keep the relationship with the step-kids positive.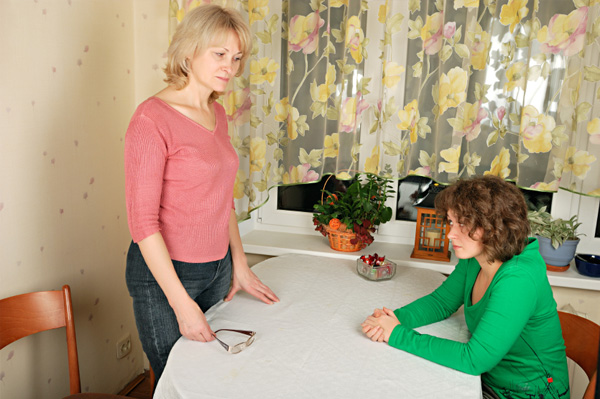 When you marry someone with kids, everyone talks about the built-in family. What they don't mention, though, is the fact that it comes with an array of challenges. Chances are that the road to having good, positive, happy relationships with your step-children will be paved with a few minefields.
Avoiding them starts with relaxing. You aren't going to be perfect. The relationship isn't going to be perfect, either. Just take it slowly, and learn how to navigate the new road together.
Here are a few things that a step-parent should never, ever do:
Don't bad-mouth the biological parents
You are going to have your opinions. Perhaps the ex is way too lax about the rules. Perhaps you really don't like her. Whatever it is you are feeling and thinking, don't mention it. Your stepchild has the right to love his parents... even if you see them as imperfect.
It's also simply not your place to get involved in disputes between the biological parents. "Voicing your disdain for the other parent's actions will make the child feel as though she has to choose between you and her biological parent. Make it clear to the child that the relationship she has with her biological parent does not have to change just because you are present in her life," advises step-mom Evelyne Del Billingslea.
Don't be a disciplinarian
Without a doubt, being a step-parent is hard. You are treading in uncertain territory. One of the keys to maintaining your footing is to resist taking on a parenting role per se. "'Step-parent' is a misnomer: Parenting has nothing to do with it. It is your step-child's parents' job to be the parents, not your job. When the parents are not doing the job that you think they should be doing, you should be extra vigilant in getting out the pom-poms, not the soapbox," says expert and author Ellen Kellner. "Use your creativity and positive thoughts to create environments where relationships with your step-children are encouraged, not stifled."
That said, you still need to set rules for your house. Just do it in concert with your spouse, and don't be afraid to enforce them.
Don't be a replacement parent
Again, the challenging role of a step-parent is tough and uncertain. But no matter how bad the biological parent is, you aren't supposed to take her place -- or try. It could lead to big-time resentment. "Don't try to replace your step-child's biological parent. Be there as a support system, role model, mentor and caring ear," says Rosalind Sedacca, CCT, author of How Do I Tell the Kids About the Divorce?
Don't expect things to be perfect
When you and your step-child's parent signed a marriage certificate, it didn't flip a magical switch that would create a lovely family dynamic in your home. Sure, it would be nice if that were the case, but it simply isn't.
So, expect some rough patches, and wait for the love to develop over time. "Don't expect [the stepkids] to love -- or even like -- you. They must treat you as kindly and respectfully as they would any other acquaintance or friend of the family. I figured I was going to be around for the rest of their lives, so they had plenty of time to get to know me. I could grow on them," says stepmom Melinda Mallari.
Don't play favorites
Step or not, a child is a child and shouldn't have to face the fact that she may not be your favorite person. "If you do have your own children, try not to show blatant favoritism to them. Chances are, you are never going to feel the same way about your stepchild as you do your own children. Kids know this on some level, but they do not need to see it blatantly played out in front of them, which can wreak serious havoc on self-esteem and set up a antagonistic relationship between bio kids and your stepchild," says step-mom Marifran Manzo-Ritchie.