Greek Boy
Greek Girl Names
Greek baby names are unique, exotic and rich in history. Are you a Greek aficionado -- or are you Greek yourself? Do you just love the idea of Greece? Whatever the reason you are searching for a Greek baby name, you've come to the right place. These names are perfect for your baby girl or baby boy.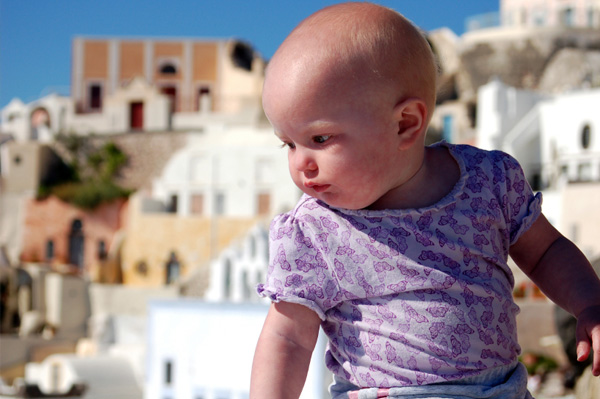 Greece is a country on the Balkan Peninsula that is rich in history. It traces its roots back thousands of years to ancient Greece, the home of the first advanced civilizations. Today it is a developed nation along the Mediterranean Sea that is part of many international organizations, including the European Union.
Greek baby boy names
Looking for the perfect Greek baby boy name? You'll love these.
Achilles - Hero from The Iliad
Adonis - Aphrodite's' love
Adrian - Wealthy
Alesandro - Mankind's protector
Basil - King-like
Belen - Arrow
Bemus - Platform
Caesar - Long-haired, Julius Caesar
Calix - Handsome
Christophe - Christ bearer
Cicero - Historian
Claus - People's victory
Cole - People's victory
Constantine - Constant
Corban - A gift devoted to God
Cy - Proud
Damen - Divine power
Darius - Wealthy
Deacon - Servant, messenger
Demitrius - Lover of the earth
Dennis - Wild
Deo - God-like
Dru - Vision
Egan - Little fire
Eros - God of love
Estevan - Crown
Eugene - Born lucky
Evan - Young warrior
Ezio - Eagle
Faustus - Lucky
Felipe - Loves horses
Flavian - Blonde
George - Farmer
Giles - Young goat
Gregory - Watchful
Griffin - Mythological beast
Hercules - Exceptionally strong
Homer - Promise
Icarus - Legendary figure
Isidore - The gift of Isis
Jace - Healer
Jerry - Holy
Jorges - Farmer
Julian - Youthful
Kal - Most beautiful
Karan - Pure
Keelan - Lean
Kosmos - Order
Kristo - Christ- bearer
Kyril - Lordly
Lander - Lion man
Layland - Protector of men
Leo - Lion
Magus - Magician
Mateo - Devoted to God
Maximus - Greatest
Miles - Merciful
Moe - Saved
Neo - New
Nicholas - Victorious people
Nicos - People's victory
Niles - People's victory
Nyke - Speed
Obelius - Piller of strength
Odell - Ode
Odysseus - Full of wrath
Orien - The hunter
Orrin - Mountain
Othello - Acute
Otis - Keen hearing
Owen - Well born
Pancras - All powerful
Pearce - Stone, rock
Philip - Horse lover
Pheonix - Mystical bird
Proteus - Changeable
Quinn - Fifth-born child
Rastus - The loving one
Sander - Protector
Santos - Saint
Sirius - Sparkling
Spiro - Spiral
Stavros - Crowned
Tadd - Courageous
Tassos - Harvester
Theo - Divine gift
Timon - Worthy
Titan - Of the giants
Tomaso - Twin
Tyrone - King
Ulysses - The angry one
Urion - From heaven
Vasilios - With royal blood
Vitalis - Life
Xander - Protector
Click here for more Greek baby boy names!
Next page: Greek baby girl names and meanings