Top Toys For Christmas
Are you looking for the hottest toys this Christmas?With Black Friday literally days away if you're a mom, you're probably making your list and checking it twice to ensure you get your kids toys they'll actually play with rather than smile at and proceed to shove in the back of their overstuffed closets never to be heard or seen from again. Well not to worry; we've combed through all the countless dolls and board games to bring you a list of our hottest toys for 2009. Just don't forget to print this list out before you embark on your holiday shopping spree.
(page 4 of 5)
Toys for kids seven to nine years old
Pirates' Gold 2009: This unique three-dimensional game board pieces together like a puzzle and is filled with swashbuckling pirates and a bounty of shiny gold. Players travel from island to island battling other players and collecting the most gold coins to win. Pirates' Gold is designed to strengthen strategic thinking, basic counting, skip counting, and addition skills. www.carsondellosa.com.
PixOs Super Studio: Kids can just add water and watch in amazement as the PixOs beads magically fuse together to create a work of art. When they're done with their creation they can finish it off by using the studio's built-in dryer. Studio comes with 500 PixOs, two design trays, five double-sided templates, two instruction booklets, spray bottle, super studio unit with built-in storage, dryer and pen dispenser. www.spinmaster.com
Glodoodle: This new drawing toy allows kids to make incredible pictures with light. Children need to simply turn on the Glodoodle and use either their finger or the drawing tool and watch their pictures come to life.  It features three different colors and is a great drawing tool you can use over and over again. www.spinmaster.com
Toys for boys seven to nine years old
Air Hogs Zero Gravity Laser: This car can drive on any flat surface including the floor, up walls, even upside down on the ceiling. It has an innovative new type of laser control, so there's no more thumb controlling. Kids just point and shoot the laser and the car will follow the light wherever it goes. www.spinmaster.com.
The Air Hogs Switchblade: This two in one flyer takes off like a hovering UFO and can be transformed in-flight into a high powered jet. www.spinmaster.com
Flick Trix: This new finger bike line provides junior BMX enthusiasts authentic licensed replica BMX finger bikes to ride and show off as collectables.  It's like Tech Deck for BMX. www.spinmaster.com.
Toys for girls seven to nine years old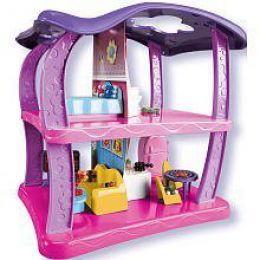 Hello Kitty's Knitting Kits: Perfect for little fashionistas in training it provides them with an opportunity to create something fun and fashionable to wear. With these kits girls can knit their own Hello Kitty bags, scarves, and hats. All knitting kits include yarn, plastic needles, instructions and materials. The knitting kits are ideal for children who love to wear accessories and enjoy arts and crafts. www.nkok.com.
Hello Kitty Sewing Machines: Ideal for any girl who aspires to be a fashion designer and includes the Chain Stitch Sewing Machine, Lockstitch Sewing Machine, and the Deluxe 2-in-1 fashion center. www.nkok.com.  
ChixOs Design-A-Luxury Loft: This new line of dolls and play sets allows girls to create, accessorize and play alongside their favorite PixOs creations. The ChixOs Design-A-Luxury Loft is the ultimate party palace with four rooms for girls to explore and decorate. They'll especially love the glitterator shower that will magically cover their dolls with glitter for a fun night on the town. www.spinmaster.com.
Easy-bake oven & snack center: The classic side-loading oven that bakes with a light bulb let bakers-in-the-making whip up tasty snacks, including cakes, brownies, cookies, and much more. The oven comes with three different mixes, two baking pans, two utensils, a pan pusher, two warming cups and recipes/instructions. One 100-watt standard light bulb is required but not included. HasbroToyShop.com.
Next page: Toys for kids nine years and older