Get Out There And Play!
Though today's families are busier than ever, it seems that kids still find plenty of time to lounge in front of the television and play video games. But allowing endless hours of wasted time in front of the tube sets your children up for a lifetime of inactivity. Don't wait another minute - encourage your kids to become active! We'll show you how.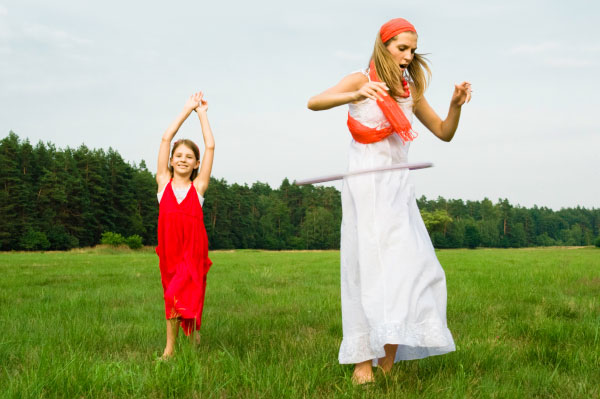 Lead by example
Show your children how much fun being active is by getting out there and proving it! Pump up the tires on your old bike or brush the dust off your tennis rackets and start sweating. Invite your children to come along.
Spark their imaginations
When you were a kid, you probably didn't spend hours zoned out in front of the boob tube. Cartoons weren't accessible 24/7 as they are today, and personal computers didn't swallow up playtime. So what did you do with your time? You probably jumped back and forth on the couch cushions, pretending the carpet was hot lava, or you raced your bike around the neighborhood with your friends pretending you were a motorcycle gang until the streetlamps came on. Whatever you did, it was your imagination in motion as well as your body. Encourage your child to use his imagination to engage in active play.
Make it a game
Think of all the fun games and toys that are actually sneaky little workouts. Jump ropes, hopscotch, hula hoops, and even plain old tag all require physical exertion, yet they don't seem like workouts. They are fun, pure and simple, so your child won't even think she's exercising!
Establish time each day for active play  
Experts say kids need at least 60 minutes per day. That time will go by fast if you take your child to the playground (ideally by walking or biking!), fly a kite, or dance around the living room.
get her to try a new sport/activity  
Let your child pick any sport he wants -- whether it's football soccer, dance or gymnastics -- and encourage him to see it through. Think outside the box if your child isn't sports minded in the traditional sense. Martial arts classes offer incredible workouts, and many yoga studios offer classes specifically for kids.
Set limits
Don't expect to cut your child off cold turkey from his Nintendo DS. There's a time and a place for it all, so you don't have to ban video games, the computer or television altogether to force your child to get active. In fact, that could backfire: Your child could wind up thinking of physical activity as a chore. But setting limits is important. Establish a set amount of time your child is allowed access to TV, video games and the computer each week. Let him know he can budget his electronics time however he wishes.
Ask your child to help you
It's okay to admit that you haven't included enough active time in your own life, and ask your child to join you on a new quest to be active, healthy and fit. Make a pact to do some fun, active things together every day -- and stick to it!
Add an incentive
Turning off the television to go take a hike might seem like a punishment at first, so encourage this transition to a more healthful lifestyle by way of incentives. Suggest that, if your child completes his first week of limited TV time and amped-up activity time, you'll treat him to something special. (Avoid rewarding her with extra TV time or sugary treats like ice cream.)
Fuel an active body
Your child's body will be all the more ready for activity if she is well nourished with the right types of food. Include plenty of fruits, vegetables, whole grains and lean proteins in your child's daily menu. Encourage her to try new foods, and join her in this quest, too. About a million recipes out there incorporate nutritious and delicious foods, so get cooking!