Christmas Activities For Kids
Christmas is almost here and one of the best ways to get your family in the spirit is to get crafty. So pull out the pipe cleaners, glue, glitter and icing because with these simple ideas you and your kids will be inspired to create beautiful, festive keepsakes and gifts, not to mention whip up some wonderful treats to eat, too!
(page 8 of 10)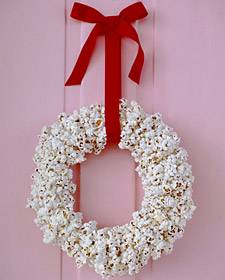 Popcorn Wreath
Adorn your front door with this old-fashioned, festive favorite guaranteed to bring joy to guests from the moment they arrive at your doorstep.

What you will need:
4 qt popped corn
1 ½ c. sugar
1 c. white corn syrup
1/3 c. butter
1/3 c. water
Gumdrops, marshmallows, M&Ms, candy cane pieces or anything else you can think of to decorate your wreath

What to do:
1. Boil the sugar, corn syrup, butter and water until cracking point.
2. Pour mixture over popped corn and cover completely.
3. Mix-in candy goodies as you see fit, or leave plain.
4. Form circle with the popcorn using a molded ring or simply wrap it around a foil wrapped coffee can.
5. Hang and enjoy!
Next: Wintry snowgloabe