Christmas Activities For Kids
Christmas is almost here and one of the best ways to get your family in the spirit is to get crafty. So pull out the pipe cleaners, glue, glitter and icing because with these simple ideas you and your kids will be inspired to create beautiful, festive keepsakes and gifts, not to mention whip up some wonderful treats to eat, too!
(page 2 of 10)
Homemade christmas hair clips
Mini fashionistas will love turning their old hairclips into festive works of art that they can show off at their holiday parties or give as gifts.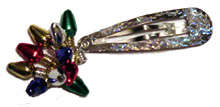 What you will need:
Hair clips (the ones that snap back and forth work best)
Brightly colored and/or glittery nail polish
Clear nail polish
Glitter (optional)
Tiny decorative light bulbs, with hole on end (sold at craft stores in bunches)
Fishing line (also sold at craft stores)
Scissors
Super glue (for grown ups only)

What to do:
1. Paint the clips with the glittery polish. Feel free to use multiple colors/coats. Paint a clear coat over for extra shine and protection. Let dry completely.
2. Use fishing line to string on the tiny light bulbs to the skinny end of the hair clip that has a hole. Tie securely.
3. Use super glue in case the light bulbs fall out of their sockets.
Next: Star candleholder