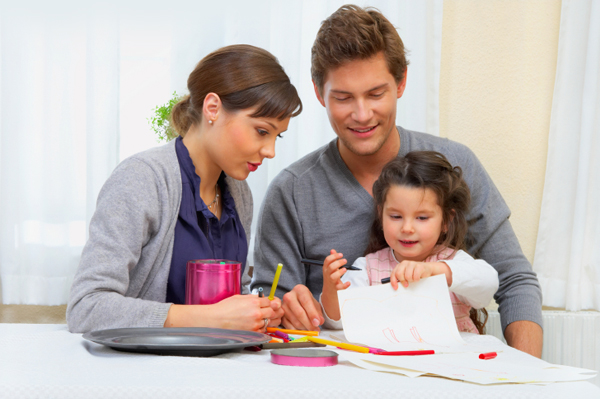 Art for families
If you're looking for some fun for the entire family, try a little creative expression. Not sure you have the knack? No sweat! You don't need a degree in art to bring out your family's inner artists.
Art offers a great opportunity to bond, encourage imagination and create new memories when family members participate together. Child development expert Maureen Healy emphasizes the importance of art, especially for children. "Art is the language of children," she explained. "A child learns to communicate, understand and discover their world initially through expressing their unique creativity."
Here are a few ways you can spend some quality time with your family while nurturing their creative side:
Preschool
Preschool-age kids love to get their hands dirty. Luckily, turning their handprints into pieces of art can be a snap:
Use plaster of Paris and a paper plate to create a permanent hand- or footprint and have your child paint it a favorite color.
Pick out a blank T-shirt or apron and your favorite color of permanent marker or paint. Trace or print your tiny tyke's hand or foot for a masterpiece that is also a keepsake.
Trace your child's hand and use the outline as the basis for many holiday-themed projects: Thanksgiving turkeys, winter reindeer antlers and springtime flowers emerge from those little hands that still fit into yours.
Grade school
Once kids enter grade school, the key message is independence. Through art, they can express their individualism while developing concentration and creative-thinking skills. Here are a few projects they can do with you or on their own:
Wooden picture frames are instant mementos that are perfect for your growing artist; you can customize the frame's surface with paint, markers and wooden shapes.
With a pad of paper and colored markers, your grade-schooler can create a flipbook that brings his very own animated character to life.
Drawings filled in with dots using color markers, paint or stickers can create an optical illusion when you stand back to observe the new work of art.
Junior high school and high school
As children get older, getting them to jump onto the family-fun bandwagon gets harder. Pique their interest with projects that offer a bit of challenge:
Armed with a bar of soap and a paring knife, your family can whittle their way through soap carving.
With supervision, wax beads, pressed flowers and a wick, candle making can be fun for older kids.
The trial and error of creating a mosaic can be challenging enough to intrigue even a resistant teen. Use colored pieces of paper on a sheet of poster board to fill in a drawing they've created, or use pieces of broken ceramic tile on an outdoor tabletop for a montage that's a keeper.
Proud of the work you and your family have created? Don't limit your artwork to a wall. Pick up some printable iron-on paper from your local craft or office supply store, scan your artwork and iron it onto a T-shirt for all to see!
More on family activities
Free activities for kids
Tips for choosing movies for family movie night
5 Ways to bring your family closer together
More From SheKnows Explorer