Flu Fighting Products For Kids
The H1N1 Swine Flu virus is a highly contagious form of influenza that is easily spread through coughing, sneezing and contact with infected surfaces. Unlike the seasonal flu, this H1N1 strain didn't lessen over the summer months; instead, swine flu continues to spread. Check out 6 new products that will help prevent your kids from contracting the H1N1 Swine flu virus.
(page 3 of 6)
"Please Wash" signs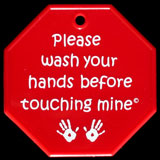 Babies are irresistible, and people just want to reach out and touch them. At this time of the year, the last thing your baby needs is an infected person's germs. "The biggest danger to babies is other people's hands," says Ken Haller, M.D., assistant professor of pediatrics at Saint Louis University School of Medicine.
"Please Wash" signs from mytinyhands.com may help. The washable, weatherproof, silicone rubber signs are perfect for your stroller or hanging in your baby's nursery or bathroom as a reminder for both visitors and siblings.
The sign's large text reads "Please wash your hands before touching mine." In bright colors like pink, blue and red, the stop sign shaped sign is hard to miss.
Get tips on getting kids to wash their hands here.