Identical And Fraternal Ideas
As if selecting one baby name isn't hard enough, when you are having twins you have to choose two. How do you choose names for twins? And what are the most popular ones? Whether you are searching for a baby name for identical or fraternal twins, we have some ideas for you!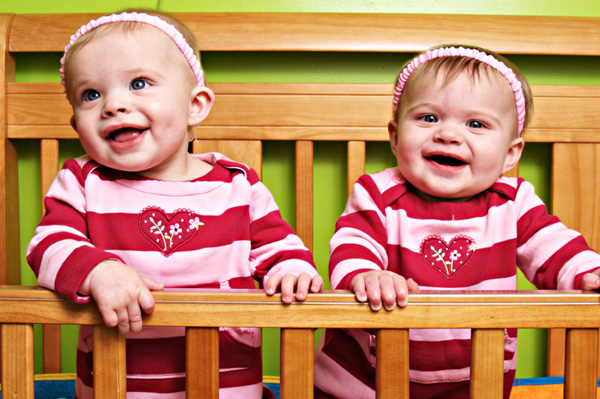 Congratulations, you're having twins! Those words can be both exciting and really, really scary. But don't worry. Twins are great! They provide instant companionship for each other, as well as a deep connection with each other. But, let's be honest: you are here to figure out what to name your twins, not how they are to raise. So, getting down to business.
In many ways, naming twins is doubly hard. You and your significant other have to agree on two first names and two middle names. But, it can also be a little easier, since you need only narrow down your choices to your top two favorites (and really, sometimes it can be really hard to decide between those two).
Popular twin boy names
Every year, the Social Security Administration puts out a list of the top baby names for that year. They also put out a list of the top twin baby names. These pairs were the top names for boys in 2008, the latest year for which data is available.
Jacob and Joshua
Daniel and David
Jayden and Jordan
Ethan and Evan
Isaac and Isaiah
Elijah and Isaiah
Landon and Logan
Logan and Lucas
Matthew and Michael
James and John
Brandon and Bryan
Nathan and Nicholas
Caleb and Joshua
Christian and Christopher
Joseph and Joshua
Check out the entire list of the Social Security's Top 100 Baby Names for boys here.
Popular twin girl names
These pairs are the top twin name pairs for girls from 2008, as ranked by the SSA.
Gabriella and Isabella
Madison and Morgan
Ella and Emma
Faith and Hope
Isabella and Sophia
Olivia and Sophia
Hailey and Hannah
Mackenzie and Madison
Ava and Emma
Ava and Olivia
Makayla and Makenzie
Abigail and Emma
Addison and Avery
Faith and Grace
Emma and Sophie
Check out the entire list of the Social Security's Top 100 girl names here.
Popular fraternal boy/girl twin names
What about boy/girl fraternal twins? Don't worry, they are included on the SSA's list too. Here are the top name pairss from 2008
Taylor and Tyler
Madison and Mason
Addison and Aiden
Emma and Ethan
Jayden and Jaylen
Emily and Ethan
Hayden and Hunter
Jada and Jaden
Abigail and Benjamin
Aiden and Ava
Natalie and Nathan
Samuel and Sophia
Adrian and Adriana
Alexander and Alexis
Lily and Logan
Next page: Should you rhyme names?