Get Your Kids
Reading!
Although these days most kids would rather be plugged into a video game than a book, there is no better way for kids to stretch their imaginations, explore their emotions, expand their vocabularies and ultimately gain a better understanding of the world they live in then for them to sit down and turn the pages of a three dimensional paperback or hardcover book! Writer and blogger Melissa Chapman picks her top 15 books for the pre-school, grade-school and tween/teen set.
(page 2 of 3)
Top Five Grade School books
These books will spark their imaginations, teach important life lessons and are perfect for your early reader.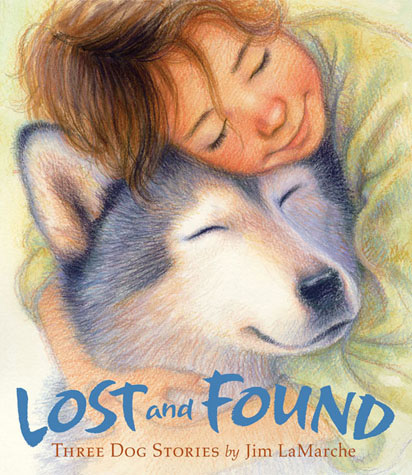 Lost & Found
By Jim LaMarche
In three heartwarming stories featuring exquisite artwork, kids will be encompassed by sweet stories of the love between a child and his/her pet. Tales of being lost, being found, finding home and the dogs who help us find our way. One lost dog is rescued, another pup leads a frightened child home, and a fractured family finds a fresh start through the love of a dog.
This touching collection of stories, revolving around the theme of being lost and found will be cherished by anyone who has ever loved a dog. Award-winning Author/Illustrator Jim LaMarche golden-hued images like are a warm, cozy hug on a winter morning – perfect reading for the lull between opening presents and Christmas dinner.
The Mouse, the Monster and Me
By Dr. Pat Palmer
The Mouse, the Monster and Me is a clever metaphor and beautifully illustrated motif woven throughout the book to helps kids identify their "inner mouse" and "inner monster", and discover their assertive "me" self. It describes monster/aggressive behavior and mousey/passive behavior and encourages an authentic Me behavior that is centered, kind, assertive and compassionate. It has a Teacher's Guide available on the internet that is free with lesson plans, exercises and games. It teaches kids how to get their needs met without manipulation or aggressive actions and helps kids get a handle on strength and power, their rights and responsibilities, asking for what they want,  saying "no",  criticism, compliments and being yourself.
Nana, What's Cancer?
By Tessa Mae Hamermesh and Beverlye Hyman Fead
Published by the American Cancer Society, Nana, What's Cancer? follows a loving conversation between a survivor and her granddaughter. It tackles the tough questions about cancer, in a kid-friendly but honest way. Nana, What's Cancer is a who, what, when, where, why, and how of cancer, starting with the basics of cell structure and guiding a young audience through the journey that cancer takes as it develops and spreads, plus ways to slow – even halt – that journey. The book demonstrates the strengthening of emotional bonds between family members during a very difficult time.
It has gorgeous color illustrations by artist Shennen Bersani, and includes a comprehensive glossary of cancer-related vocabulary to help young readers better understand the medical and technical language of cancer. Kids will appreciate the very real and age-appropriate questions Tessa poses to her Nana, and that the book doesn't talk down to kids, but rather explains cancer honestly. Kids will love how the book will make them feel hopeful and knowledgeable, and much less afraid. After reading the book, they will feel better equipped to help a friend or family member with cancer, and better able to have a conversation about a loved one's cancer with others
Diary of a Wimpy Kid #3: The Last Straw (Part of the Wimpy Kid series)
by Jeff Kinney
The hilarious stick-figure-drawn adventures of Greg Heffley and his quest to conquer middle school continue in "Diary of a Wimpy Kid: The Last Straw Book," book number 3 in the Wimpy Kid series. This book will truly resonates with middle school kids who will relate to Greg's character, whose actions and feelings mirror what real kids think about what's going on in their lives and how they feel about school, friends, parents and siblings.
According to Susan Aikens, an Independent Reader Buyer for Borders, "Jeff Kinney's humor is snarky and perfectly captures the attitude of the average 5th grader – and he doesn't write down to them. This is a good book – and series – to recommend to reluctant readers, especially boys, because of the humor and the illustrations. Really, any kid who's been embarrassed by their parents or had friend issues will understand where Greg Heffley is coming from. And a bonus draw: The Wimpy Kid movie is in theaters 4/10/10."
Sarah Meets A Bully
by Bec Furraway
Sarah Meets A Bully tells the story of two children, Sarah and Jenny, who are both faced with being bullied at school. While Sarah becomes scared, and experiences unnecessary pain and unhappiness because she doesn't take action Jenny, faced with the same situation, has an entirely different experience. Jenny is equipped with the wisdom, courage and self confidence to make choices and take action in a way that quickly leads to a happy and peaceful outcome. This book teaches children how to make positive choices and take the right action when faced with challenges. This book comes with a personal invitation to every child to connect with the author and use the free support offered at Uniting Kids (www.unitingkids.com) to help them through their challenges, to connect with other kids around the world and to find the resources they need to implement positive change in their lives.
Tell us: What is your favorite kids book? Comment below!
Next page: Top teen books