Living Up
To Edward
Edward Cullen is tall, pale, ridiculously handsome and brimming with secrets. As if that isn't enough to make a teen girl swoon, he is charismatic, brooding, polite, charming and full of depth. The alluring bad boy has always been hard to resist, and Edward has been lumped into this category, but this character has transcended the leather jacket and motorcycle stereotype (though he does drive one mean Volvo). Absolutely devoted to Bella, the love of his eternity, Edward has become the new "perfect" guy of this generation. Teens everywhere are feeling the impact of this powerful incarnation where love and reality collide. But does the love story between Edward and Bella create unrealistic expectations for teens and their relationships?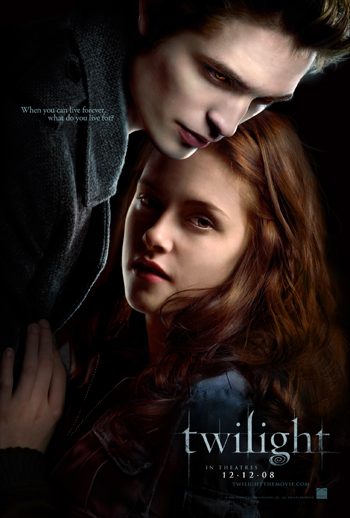 Let's face it. Twilight isn't the first love story that's inflated someone's wants and needs for a relationship. Whether teen or adult, it can sometimes be impossible to ignore the longing for perfection that the fairytale romances of books and the big screen can sometimes leave behind.
The Edward syndrome
Twilight author Stephenie Meyer unwittingly raised the bar for young men and women everywhere when her unconscious dreamt up Edward Cullen. Many girls have developed unreachable expectations because of this sparkly vampire that no guy will ever be able to match.
Some might say it's normal teen behavior to fawn over a fictional character, but teens are just beginning to dabble in the ups and downs of like, love, lust and all that comes with it. Now is when they are forming their beliefs about what a relationship should be like – is Twilight helping or hindering that endeavor?
Relationship expert and clinical psychotherapist Barbara Bartlein, author of Why Did I Marry You Anyway?, says, "While teen girls may not be looking for vampires per se, they are at an age where they desperately want to believe the myth of finding an exceptional guy with extraordinary powers. They have to find the unusual guy who 'needs' them."
Bartlein touches on what she calls the "James Dean syndrome," the always-irresistible bad boy who deep-down is a good person, if the right woman can find him and save him. "This unreasonable expectation can lead to a series of toxic relationships with the teen trying much too hard to fix someone else. Young girls will and should fall in love for the first time, as a rite of passage, but the fall will be harder if they don't realize that all boys are simply human."
The Reality of Twilight
Legions of teens the world over have been captivated by the Twilight saga. They're supremely dedicated to the story, and they have found encouragement in it, they have identified with its characters. Whether they're inspired by the plain Jane who's wanted by the most sought-after guy in school or whether they have come to believe that one true love can exist, there are pros and cons to the tale.
It can be easy to get sucked into thinking that finding your perfect match at the tender age of 17 will make the rest of life oh-so-easy. Though it seems a little contrite, Edward and Bella could be classified as high school sweethearts – a bit of an old-school mindset in today's world – but that branding doesn't seem to accurately define what they are to each other. And that's what some teens are in search of – the indefinable.
Next page: Helping teens separate fact from fiction