Easy & Healthy Snacks For Kids
Sure as the siren's call, when your kids arrive home from school, they are hungry and looking for something to munch on. Is an afternoon snack really necessary for kids? Yes, actually. But the key is to give them a healthy one that will fuel them for the important afterschool hours. Here's some easy and healthy afterschool snack options kids will love.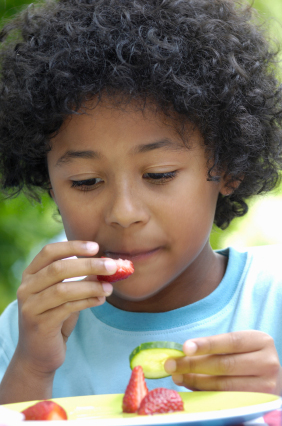 In the idyllic portraits of perfect moms on television, the chipper lady pulls cookies from the oven right as junior steps from the schoolbus. Sitting down to a big glass of milk and a plate of cookies, he tells her all about his day at school. It's such a lovely image ... but is it realistic?
In reality, most moms don't fit the June Cleaver mold. We're pulled in a dozen directions, maintaining house and home while taking care of children, arranging schedules and, for some, working too. You may not have time to whip up a fresh batch of cookies daily (who does?), but your child should still have an afternoon snack.
"An afternoon snack is crucial to sustain healthy energy levels in children and fuel brains to stimulate cognitive development, memory, focus and alertness," says Karla Heintz, BSc Nutrition Educator and author of Picky? Not Me, Mom! A Parents' Guide to Children's Nutrition. After all, remember that school -and learning - don't stop when the schoolbell rings. Between homework and afterschool activities, kids need to keep going.
So, what smart snacks will keep your kids going?
Easy snacks
For the busy mom, snacks need to be quick, easy and relatively mess-free. That sounds like a tall order, but it is totally doable.
Stock up on easy to grab, shelf-stable snack items such as whole grain crackers, graham crackers, dried fruit and nuts. Then each week pick up a few items to pair with those for the daily snack such as cheese, fresh fruit and vegetables that your kids love.
To make it even easier to toss together a quick snack, prep the cheese, veggies and fruits that won't turn ahead of time. Store them in the fridge so snack time becomes practically grab-and-go.
What about the cookies?
Back to that idea of warm cookies right from the oven, besides the time element, are they an okay nibble for afterschool? Yes, particularly if the cookies are healthy ones. "Cookies can be a component of a healthy snack provided they are not made with white flour but rolled oats, wheat germ, whole wheat flour or cereal. To compliment the cookie throw with it some apple wedges to encourage soluble fiber and vitamins," says Heintz.
Right about now, you are probably thinking what a tall order those healthy cookies are. But don't worry, there are some easy options for you. Better Bakes from Immaculate Baking Co., which are available in grocery stores like Whole Foods, Stop & Shop and Kroger, are slice and bake cookies made with organic unbleached wheat flour and other natural ingredients.
Another option? When you have free time, mix up a batch of cookies and use a small ice cream scoop to portion out the cookies onto a parchment lined baking sheet. Freeze, then transfer to a resealable plastic bag. Then, you will have ready to bake cookies just a brief defrost away.
Check out these 2 healthy and yummy recipes: Soft cranberry banana cookies and Apple breakfast bars.
From the expert
So, what's good from the nutritionist's point of view? Heintz, who can be found online at nutritionwithk.com, suggests incorporating a raw fruit or vegetable into whatever is served. She suggests these tasty "brain-worthy ideas":
Carrots, red pepper slices and hummus
Homemade applesauce with raisins and granola
Whole grain pita wedges with melted cheese dipped in bruschetta or a diced tomato medley
Banana sandwich with nut butter and raisins (slice the banana in half and fill with these items)
Whole grain crackers with fruit salsa (mango is very tasty)

Tell us: What is your favorite after school snack for kids? Comment below!
For more kids snack ideas:
More From SheKnows Explorer