Stay-At-Home Mom
Jeanellen Connelly thrived in her fast-paced career as a corporate computer consultant and trainer in Manhattan, traveling three weeks each month and juggling dozens of clients. "I loved my job and I did it very well," Connelly says. But after her daughter was born she found herself torn between staying at home and growing her business.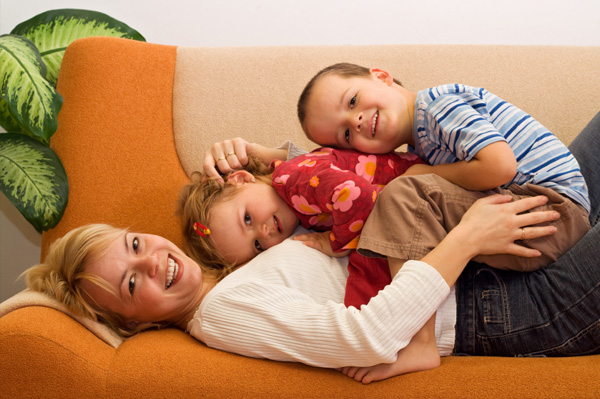 "I loved being my own boss and I didn't want to give that up," she says. Connelly gave herself five months to make a decision but when her time was up, she realized she wasn't ready to leave her daughter to go back to work.
Becoming a stay-at-home mom
Fast forward four years and you'll find Connelly flourishing as a stay-at-home mom
to her two daughters, ages 4 and 2, and expecting a third child in August. Connelly admits she thought she was going out of her mind during her first six months at home. "There were days I would have loved to have put my work clothes on and left my daughter for the day," Connelly says. Even though she had doubts, Connelly doesn't regret her decision. "Children are only young for such a short time," she says. "Everyone says this, but it's true. My career can wait -- my children can't."
Planning to stay home?
Here's some tips from the experts:
Have a positive attitude.
According to licensed psychologist Catherine Mollner, the right attitude about staying at home makes all the difference "If mothers go into it thinking: "I'm just going to try this and see if it works," they are preventing themselves from really bonding with their children and getting into the role 100 percent," Mollner says.

Give yourself time.
Stay-at-home mother Jeanellen Connelly recommends at least a year. "Be patient with yourself and your kids," she says. "A lot of people think that going back to work is easier, but it's not because you still have to do everything when you come home at night."

Change your expectations.
"I thought it would be easy to stay at home," former fast-tracker Natalie Judelson admits. "I was going to make gourmet meals five nights a week. Now, I barely get dinner on the table and it's not that fancy, but that's OK. People don't realize how much work is involved when you are committed to staying home with a child."

Reach out.
"After six months of staying at home I couldn't believe that this was my life. I thought there had to be more to motherhood than this," Connelly says. "It took a year, but I reached out and made an effort to find other mothers like me and it really made a difference."

Give up control.
Mollner says one of the biggest adjustments a stay-at-home mother must make is learning to give up control. "For the first time in their lives, women can't control when they eat, how clean the house is or when they sleep," she says, "One way to take back some control is by living a less structured life and learning to go with the flow."

Volunteer to stay in the loop.
Connelly keeps her skills current by offering computer training services on a volunteer level. "Volunteering is rewarding and lets me use my brain," she says. "Having interests outside my children is important for me as well as my marriage."

Go with your gut.
Judelson says it's important to look into your heart and do whatever feels right. "I grew up with a stay-at-home mom and I was very comforted by having her home," she says. "I want to give my daughter the same wonderful memories."
More about stay-at-home mom on sheknows;
Financial tips for stay-at-home moms
Work-from-home ideas for stay-at-home moms
Meet the Real Moms of RMG
More From SheKnows Explorer