"Unique"
Baby Names
There is no shortage of weird celebrity baby names -- in fact, the hard part is narrowing the list down! When a celebrity has a baby, everything from where the couple registers for presents to the hospital where the mom-to-be births gets examined. Perhaps it's that inherent intrusiveness that leads stars to use some truly unusual and wacky baby names? Whatever the reason, check out our pick of the top 25 weird celebrity baby names.
(page 4 of 5)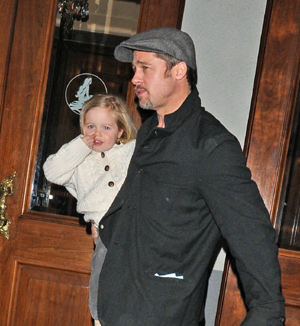 10. Ocean, Sonnet and True
There is something poetic about Forest Whitaker's kids names: Ocean, Sonnet and True ...
9. Shiloh Nouvel
Parents of six, Brad Pitt and Angelina Jolie, have a cache of unusual names, but their biological daughter Shiloh's name takes the cake in the clan (siblings include Maddox, Zahara, Pax, Knox and Vivienne). Pictured is Shiloh with Papa Pitt.
8. Seven Sirius, Puma Sabti and Mars Merkaba
Naming a baby really is serious business. When Andre Benjamin and Erykah Badu named their son, they took that to heart with Seven Sirius (say it outloud). Badu has since given birth to two more kids, Puma (hello, sneakers!) and Mars (the red planet?).
7. Satchel
Babies are so cute, you just want to scoop them up and keep them close. Maybe that's why Spike Lee and Tonya Lewis Lee named their child for bag that's great for carrying things: Satchel.
6. Kyd
David Duchovny and Tea Leoni spared no creativity here, naming thier son ... wait for it ... wait for it ... Kyd. Guess that makes calling the child over a cinch.
Next page:
The top 5 weird celebrity baby names