"Unique"
Baby Names
There is no shortage of weird celebrity baby names -- in fact, the hard part is narrowing the list down! When a celebrity has a baby, everything from where the couple registers for presents to the hospital where the mom-to-be births gets examined. Perhaps it's that inherent intrusiveness that leads stars to use some truly unusual and wacky baby names? Whatever the reason, check out our pick of the top 25 weird celebrity baby names.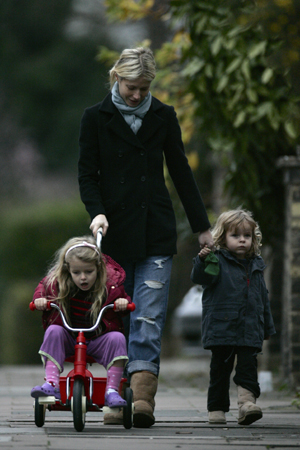 Celebrities can have some pretty unusual tastes in baby names. We devoured lists of stars and their babies to come up with the 25 most unusual celebrity baby names.
25. Hopper
When a congressmen submits a proposed bill in the House of Representatives, he or she puts it ceremoniously into the hopper, a brown wooden box located on the floor of the house.
Hopper is also the name of the son of Sean Penn and Robin Wright, which Penn said in a 2004 interview with New York Magazine, that he and his like liked the name "aesthetically."
24. Apple
It's the forbidden fruit, it'll keep the doctor away and it's the epitome of Americanism. But Apple is also the name of Gwyneth Paltrow and Chris Martin's first daughter. They got the idea from one of Martin's bandmates, who also has a child named Apple.
In an interview with Oprah, Paltrow said that she liked how it sounded "wholesome" and "clean." Pictured is Gwyneth and her children, Apple and her son Moses -- whose name could also make our list!
23. Poppy Honey, Daisy Boo and Petal Blossom Rainbow
Leave it to a renowned chef to bring in vibrant names to the table when naming their children. Jamie Oliver and his wife, Jools, named their daughters Poppy, Daisy and Petal. Apparently the floral motif is big for naming in the Oliver clan.
22. Calico, Dash and Sonora Rose
What name purrs like a kitten? Alice Cooper and wife Sheryl's daughter Calico. But move over, commonly colored cat, this Calico is a talented singer and actress. Cooper's penchant for unusual names also extended to his other kids, Dash and Sonora Rose. (I think my bathroom walls are painted Sonora Rose.)
21. Sage Moonblood and Seargeoh
When you hear the names of this pair, you can't help but get stuck on Sage Moonblood. What does that even mean? But look past it, and see Seargeoh ... then picture dad Sylvester Stallone pronouncing it. It just fits.
Next page:
Find out the unusual name choice of director Steven Spielberg and weird celebrity names number 20-16