Stay Safe
Have Fun
Whether you call it a "hike" or just a "walk," getting out into the fresh air and sunshine in a (relatively) remote location with the kids can be a blast. You can get some exercise, see flora and fauna, and generally promote family bonding.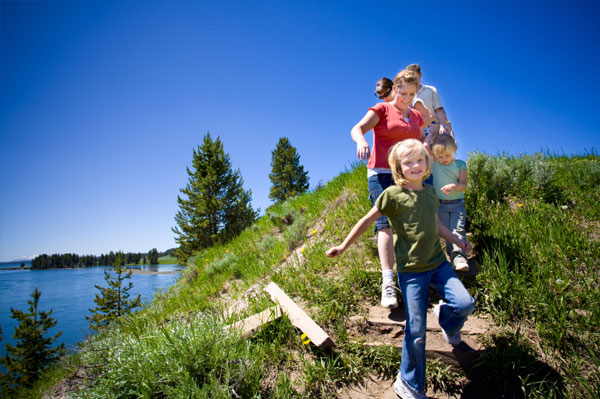 I was never much of hiking fan growing up, mostly because my mother was such an avid and advanced hiker that the trails she took me on were too long and hard for my young legs; the hikes felt like forced marches instead of anything approaching fun. It took me a couple decades to learn to like hiking again, but I am so glad I gave it another chance. Our family has had some really fun times out on the trails, both while on distant vacations and in nearby conservation land.
Hiking with kids presents specific challenges and opportunities. With the right attitude and preparation, you can set the foundation for a lifetime of outdoor activity.
Be prepared
No matter how long a hike you plan, be fully prepared:
Look at the weather report, and dress for the weather.
Everyone in the family should have appropriate, comfortable, supportive footwear. This does not mean expensive hiking boots; it does mean sturdy sneakers (not flip-flops).
Bring plenty of water and a trail snack or two. Staying hydrated and making sure everyone has sufficient energy to finish the hike are very important.
Pack sunscreen and wear hats. No matter the time of year, you must protect yourselves from the sun.
Don't forget a small first aid kit and a cell phone for safety.
Bring your best positive attitude, and if you are hiking with toddler, be ready to do some carrying.
Start small -- or short, that is
Plan your first hikes well, taking into consideration safety, a variety of landscapes to maintain interest, elements on the trails (steep areas, dropoffs, water features) and so on. Choose well-marked trails. Visit any of the numerous websites that rate trails and their appropriateness for various ages and skill levels.

Your first hikes with kids should be short; build up length and difficulty over time. But short in distance doesn't necessarily mean short in time, especially when kids are involved. Be prepared to stop often, both for rest and for exploring.
These first, more leisurely hikes are great opportunities to teach about outdoor etiquette. Respect for the wilderness includes staying on the trail, not being too loud, and not destroying or taking anything from the path. It's the "Take only pictures, leave only footprints" rule.
Have fun on the trails
During your hike, create a scavenger hunt or make up silly songs or stories about what you see. Take lots of pictures for a scrapbook of hikes for your child, so he can feel a real sense of accomplishment.

Hiking is a great -- and relatively inexpensive -- family activity. With some careful early planning, it can become an activity and an exercise for a lifetime.
For more tips on hiking with kids: