Top Boy Names
& Girl Names
Are you looking for a trendy American baby name for your girl or boy? Parents turn to baby name books, websites and more in search of the perfect name for their tots. But sometimes the best inspiration comes from entertainment that makes them laugh, cry and rejoice. Perhaps that's why popular sports teams, movies and television shows can start new trends in American baby names.
(page 2 of 2)
trendy baby names 
The Social Security Administration also keeps track of the popularity of names, monitoring how fast some names get more popular. They publish the ones, along with their rate of change, that increase the most in popularity. If the Berger and LeMens study is any indication though, swiftly rising popularly probably means that these names won't be popular for that long. Here are the top five trend-setting baby names from 2008 for boys and girls.
Boy names gaining in popularity
| | |
| --- | --- |
|   | Sarah has been in the top 20 baby names in the United States for at least the last 25 years. That's a name that's not just popular, but lasting. |
The fastest growing name for boys in 2008 was Jacoby, which rose 200 ranks from 623 to 423. Perhaps there are some serious Papa Roach fans looking to name their sons after lead singer Jacoby Shaddix? More likely though, it's gaining in popularity thanks to Boston Red Sox outfielder Jacoby McCabe Ellsbury.
Kane came in number two with a rise of 198 ranks from 637 to 439. Unless Citizen Kane is gaining a new generation of fans, it sounds like WWE fans are speaking their minds about their favorite wrestler.
The Boston Red Sox strike again in the boys list with Beckett, which rose 184 ranks from 664 to 480. Looks like there are a lot of fans of Red Sox pitcher Josh Beckett or maybe the 2007 win of the World Series had something to do with that.
Paxton rose 140 ranks from 562 to 422. Perhaps that's for The Beautiful Life star Sara Paxton, who is campaigning against puppy mills? Actually, it's probably thanks to Bill Paxton's success in HBO's show Big Love.
Kale rose 131 ranks from 631 to 500, showing that it's not just a leafy green veggie anymore. Or maybe it's thanks to New York musician Karsh Kale's unique sound? Who knows.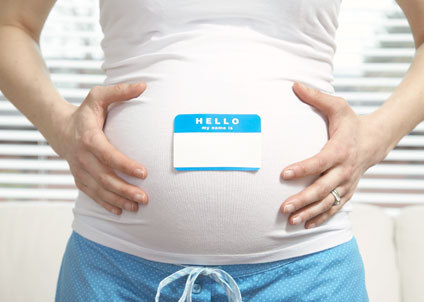 Girl names gaining in popularity
It's no secret why Khloe is the top riser among girls names. Gaining a whopping 469 ranks in its ascent from 665 to 196, Khloe Kardashian's making her mark on the youngest generation of Americans and their Keeping up with the Kardashians-loving parents.
Marlee, the second biggest riser among girls names, rose 426 ranks from 795 to 369. Sounds like Marlee Matlin has a good number of fans thanks to her work on The L Word, My Name is Earl and an appearance on Nip/Tuck.
The fourth fastest rising girls name in 2008 comes from a very clear source. It seems that The Hills co-star Audrina Patridge has quite a following, since Audrina rose 354 ranks from 707 to 353.
Marley is on the rise too, growing 243 ranks from 389 to 146. But sorry, Bob Marley, this rise is likely thanks to the hit movie Marley and Me.
related video:
New Mom Baby Workout with Michele Weeks
Exercise class for post natal mothers and baby. Class begins with a strength training workout and finishes with calming infant massage. A great combination for mother and baby.
For more baby name ideas: