Homemade Gifts
From Kids
Kids will love making these homemade Mother's Day gifts for mom. With the economy being in a major slump, these easy-to-make Mother's day crafts won't break the bank and may just inspire your spouse to use this craft-making session as an opportunity to spend some one-on-one time with the kids -- while you get in a little well-deserved me time!
(page 2 of 2)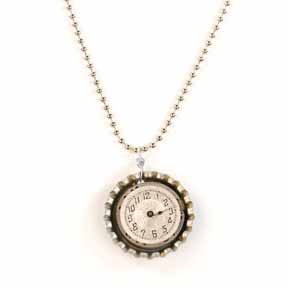 Design bottle cap charms
Colwell and Colwell-Lipson also suggest this fun way to turn bottle caps into memorable charms.
Kids can cut out a photo of themselves and glue inside a bottle cap or on the back of the cap. They can also draw a small picture, cut words from a newspaper or insert tiny bits of whatever they like, to place inside the bottle cap.
If mom loves popcorn, they can fill the bottle cap with it, then seal it with white glue. They can then make a hole through the edge of the bottle cap and thread through a piece of wire, twisting it to make a "bale" or a large jump ring. Thread on a piece of ribbon or a chain to make a necklace or bracelet. Kids can make a slew of these and attach them to a charm bracelet, or start a tradition with one a year.
Decorate a yarn flower pot and saucer
According to the folks at Lion Brand (LionBrand.com), children can express their creativity by making a one-of-a-kind decorated flower pot for their mom.
Kids can simply glue yarn to a store bought flower pot or recycle one that they've already got. All they need to do is apply a small amount of glue to the top 1 inch (2.5 cm) of the pot. Wrap glued area with yarn in their desired color. They can continue to apply glue and wrap yarn around the pot, making stripes as desired. In the same way, kids can apply yarn to outside of saucer. After they allow it to dry, kids can also cut short lengths of yarn and glue onto their wrapped pot and saucer, shaping it into dots or stripes.
Make your very own bleached t-shirt
The Craft Queen, Terri O. (www.aterrioshow.com) suggests that older kids may enjoy crafting a special one-of-a-kind bleached t-shirt for mom. Kids will need a dark t-shirt, a spray bottle with equal parts water and bleach, as well as a heavy paper to cut out their design. If the t-shirt is new, you may want to prewash it to get the stiffness out.
Use adhesive to attach paper to the t-shirt (the craft queen recommends using a permanent adhesive roller) and, of course, adult supervision is required with this craft. All kids need to do is draw and cut their design out and tape to the front of their t-shirt. Then they'll lay out their t-shirt over newspaper, spray with their mixture of bleach and water and watch their t-shirt change color before their eyes! They can rinse it immediately in water and let it dry. Mom can wear her design proudly and be the envy of all her friends.

Check out a video demo on making your own bleached t-shirt at www.onlinewithterrio.com.
Read more on Mother's Day crafts: