Prom Fashion Tips
How can you find the perfect prom dress that will make you stand out in a crowd? When it comes to prom, some things are predictable... gorgeous dresses, flower corsages and up-dos. This year's prom trends, however, are anything but predictable. Take a look at how the runway, pop culture and even the economy influence a teen's most important formal occasion.
(page 5 of 5)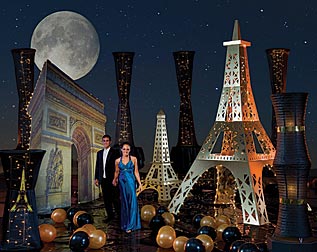 Prom themes
With the economy in such upheaval, some schools have decided to scale down prom expenses. One of the easiest ways to do so is by moving the event back to the high school gym – no more pricey dinner boats or hotel ballrooms. Not only will young couples enjoy less expensive tickets, they can lend their artistic talents to help with decorating! Many schools provide an in-school day off to enable students to transform the gym into a beautiful fantasy world. Today's homemade proms go beyond crepe-paper streamers, and StumpsProm.com has more than 150 prom kits with fun themes like Arabian, Broadway, 1950s, casino and western.
One fun prom trend is to dress according to the theme -- for instance, dressing in Arabian costumes, western, etc. Have fun by finding the perfect prom outfit at consignment stores or costume shops.
Prom 2009 is a great time for young people to express themselves. The newest trends enable young men and women to embrace their individuality and flaunt it.
Get more prom tips here, including dresses and hairstyles: