Prom Fashion Tips
How can you find the perfect prom dress that will make you stand out in a crowd? When it comes to prom, some things are predictable... gorgeous dresses, flower corsages and up-dos. This year's prom trends, however, are anything but predictable. Take a look at how the runway, pop culture and even the economy influence a teen's most important formal occasion.
(page 2 of 5)
Vamp it up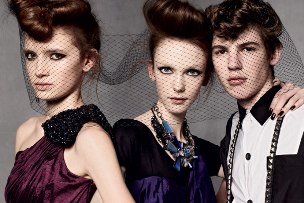 Fans of the immensely popular Twilight totally get the whole vampire theme. Guys and gals alike can take some tips from the Cullens to look the part at prom. TeenVogue suggests trendy leather blazers for guys, campy jewels for their dates and bouffant hair – for both!
The Twilight vampires sparkle, and so do this season's sequined prom dresses. Get the look with a floor-length all-sequin concoction like the sequin halter top gown at Simply Dresses.com ($290, check it out on page 4), or show a little less bling with sequin embellishments. Jordyn Sparx'chiffon gown (CBSLimited.com, $258) in watermelon boasts a subtle black sequin inset and is available in plus sizes up to 24W.
Next page: Makeup trends