Easter Basket
Crafts For Kids
The Easter Bunny is on his way and needs a special place for all of the goodies. Homemade Easter basket crafts are a fun alternative to the store-bought variety. These inexpensive and creative basket crafts are ideal for preschool and elementary school kids.
(page 3 of 2)
Milk jug Easter bunny basket
This craft has been popular among school kids for decades. Maybe the one you made is still in your parents' attic! And as a bonus, you're recycling an empty container.
What you'll need:
1-gallon milk jug
scissors
white cotton balls
glue
pink felt
black pipe cleaners cut in half
large wiggly eyes or black buttons for eyes
What you'll do:
Cut the top of the jug off to create the opening at the top of the basket.
Glue cotton balls all over the outside of the jug.
Cut long bunny ears out of pink felt and glue cotton balls around the edges of the felt. Adhere the ears onto the jug.
Cut out and glue on an upside-down triangle (or circle) made of pink felt for the nose.
Add three pipe cleaners to each side of the nose for whiskers.
Glue on wiggly eyes (or black buttons).
Add Easter grass and treats!
Kids can carry the basket by using the jug handle.
Green grass Easter basket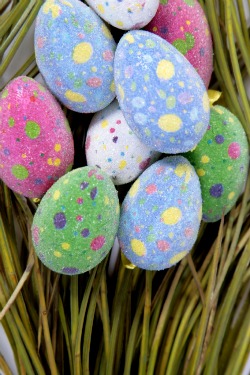 Make this basket one week before Easter, and you'll be rewarded with living Easter grass!
What you'll need:
half-gallon cardboard milk or juice carton, cut in half
acrylic paint
poster board
brad fasteners
potting soil
rye grass seed
water
large freezer bag
What you'll do:
Paint the outside of the carton as desired.
Make a handle with poster board and attach with brads.
Add potting soil until the basket is about three-quarters full.
Sprinkle plenty of grass seed over the soil and water.
Place the basket into the baggie and place on a sunny window sill.
Keep the soil moist, but don't drench it.
When the grass begins to sprout (about two to three days), remove the basket from the baggie, add treats and enjoy. After Easter, plant the grass outdoors.
Sand pail Easter basket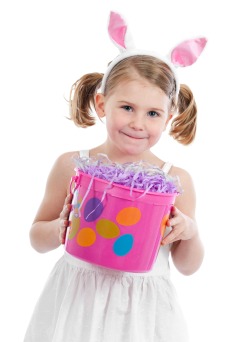 This simple project requires no sharp tools or hot glue so it's ideal for the youngest crafters.
What you'll need:

plastic sandbox pail
sandpaper
craft foam shapes
What you'll do:
Lightly sand the pail with sandpaper, then wipe away the dust.
Apply peel-and-stick foam eggs, chicks, bunnies and flowers.
Add goody-filled plastic eggs and some Easter grass, and you're all set!
More about Easter
Best books about Easter for kids
Easter party games for kids
Candy-free Easter basket alternatives