Easter Basket
Crafts For Kids
The Easter Bunny is on his way and needs a special place for all of the goodies. Homemade Easter basket crafts are a fun alternative to the store-bought variety. These inexpensive and creative basket crafts are ideal for preschool and elementary school kids.
It takes just a short time to create each basket, so your little ones won't get bored or frustrated. These inexpensive Easter basket projects are perfect for little hands and short attention spans.
Strawberry basket Easter basket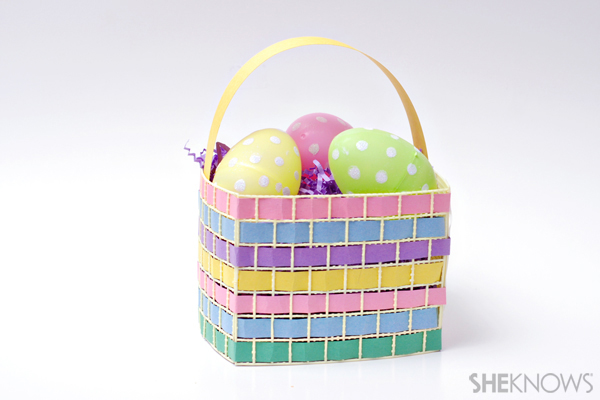 This basket is fun to make and weaving the paper builds fine motor skills too.
What you'll need:

strawberry basket with handle
construction paper
scissors
tape
ribbon
What you'll do:
Cut the construction paper into strips as wide as the basket holes.
Weave the paper in and out of the holes, securing one piece to the next with tape.
Add a ribbon or bow to the top of the handle, and your basket is finished.
Construction paper Easter basket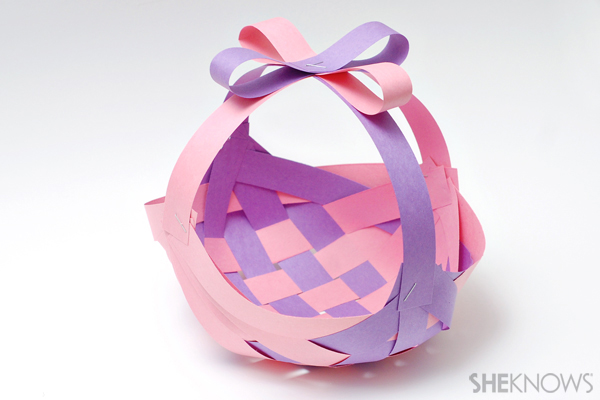 Perhaps the most reminiscent basket of childhood is the construction paper basket. All you need are two complementary colors of paper along with some patient cutting, weaving and stapling.
What you'll need:
construction paper
scissors
stapler
What you'll do:
Cut the construction paper into 1-inch strips. Make the cuts as consistent as possible.
Lay 10 strips of one color (pink) side by side on a flat surface.
Use 10 strips of the other color (purple) to weave under and over the first set of strips, leaving 1 inch unwoven on each of four sides.
Now you have a flat (pink and purple) checked mat.
Gather together the end strips of one (pink) side and staple. Repeat for the remaining three sides.
Staple another (pink) strip of paper to form a handle between two opposite (purple) sides, and a strip of the other color (purple) to join the remaining (pink) sides.
With one final strip, create a paper bow and staple to the top of the two handles to secure them.
Soda bottle Easter basket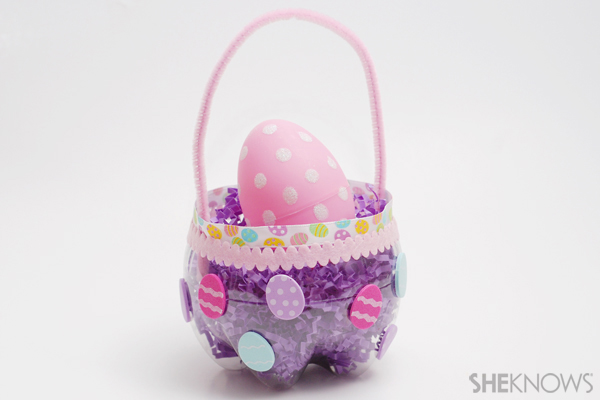 Soda comes in clear, green and even yellow 2-liter plastic bottles. They're not very recyclable, so why not find another use for them? This project involves some cutting and hot glue, so adult supervision is recommended.
What you'll need:
2-liter plastic bottle
utility knife
one long pipe cleaner
hot glue gun
scissors
craft foam, ribbons and beads
What you'll do:
With the utility knife, cut the bottle in half (or to whatever depth you desire) and add two slits opposite each other where you will affix the handles.
Insert each end of the pipe cleaner into one of the slits (from the outside in), bend them up and secure them with glue.
Use ribbon to cover and decorate the top edge of the basket (and hide any uneven cutting). Add a smaller piece of the ribbon to the pipe cleaner as a bow.
Decorate the basket with craft foam (you can find peel-and-stick Easter shapes in craft stores), beads or other embellishments.
Fill with Easter grass and you have a cute basket that's perfect for little treats and tiny hands.
These inexpensive baskets are great for parties, too. Make some in advance and fill them with tiny, tasty treats. Better yet, let your little guests make their own!
Next up: Create a milk jug Easter bunny basket