Best Books For
Expecting Moms
Trying to decide which pregnancy book to buy? If you've ever looked at the pregnancy book section at bookstores, you know that there are many books out there for moms-to-be. From essential guides to laugh-inducing accounts of pregnancy, books offer both guidance and camaraderie in the confusing, unexpected months of prenatal life.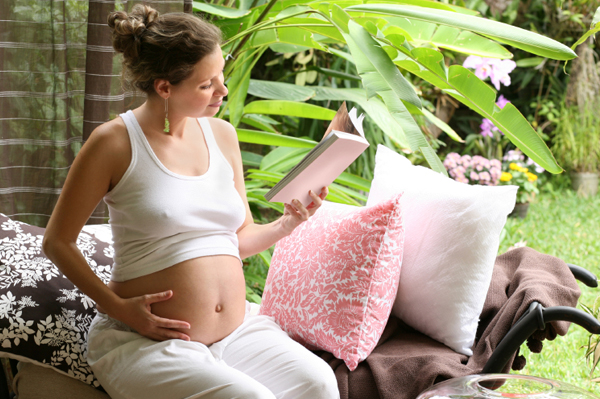 The landscape of prenatal books for moms-to-be is as wide and varied as the flowers of summer. How on earth can you sift through all of the options and find the right one for you? Well, chances are that a lot of women are going to want to tell you what worked for them. That kind of advice is indispensable, but can be overwhelming too.
Before you are inundated with advice from anyone who has ever been in throwing distance of an infant, here are some of the best books out there for moms-to-be.
The Girlfriend's Guide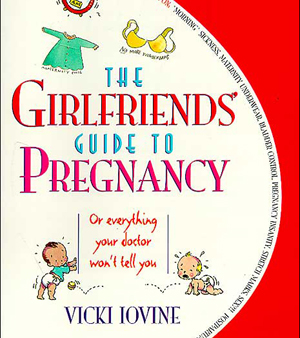 If there is one book that is mentioned again and again and again by mother's who've been there, it's The Girlfriend's Guide to Pregnancy by Vicki Iovine. Women love the honest advice that is dispensed in a gentle, but funny manner. "It was well-written, full of hilarious stories from the author and her friends, but also so chocked full of information it became absolutely indispensable to me. It was a much gentler (and definitely funnier) guide to a first pregnancy than What to Expect which, quite frankly, freaked me out since it tells readers everything that could ever possibly go wrong with a pregnancy," said mom Angie Brown.
Other moms agree that the 271-page book is reassuring and comforting, like a real friend. "This book answered a lot of embarrassing questions before I had to ask them. The author made me laugh hysterical[ly] and cringe in fear, but it was all stuff I needed to know. I have since shared this book with many, many pregnant friends. It's actually the first thing I buy for my newly pregnant friends and they've all agreed that it's great," said Tara Z. Baumgarten.
The Diaper Diaries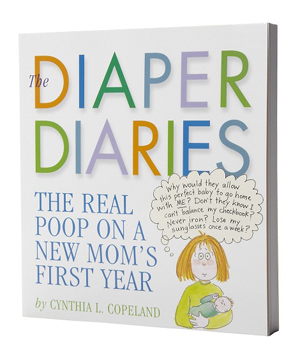 Birth is just the start of motherhood. That's why the honest and funny approach of The Diaper Diaries: The Real Poop on a New Mom's First Year by Cynthia L. Copeland reaches moms. Your need to know doesn't stop at the delivery room, so a book like this can help you navigate the bold new world of motherhood.
And yes, you will learn all about poop.
"This book was first given to me as a gift by my stepbrother's fiance, but I have since given it to many others. The book was easy-to-read, funny pages-style, and perfectly blunt. I particularly loved the page about how long it takes a new mom to get out of the house with the baby for a doctor's appointment (something like an hour and a half). Hysterical! Obviously not intended to cover all the issues related to immunizations, allergies, or emergency C-sections, but perfect for what it was... a good laugh during some not-so-funny days," said Jenny Cheifetz of TheSugarMommy.com, a custom cookie and candy business.
Mayo Clinic Guide to a Healthy Pregnancy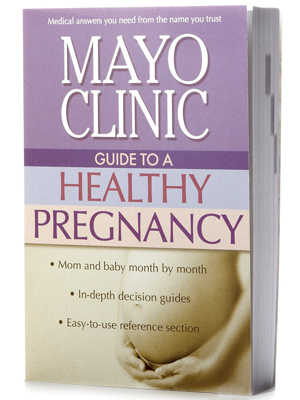 The world-class Mayo Clinic's authorative tome on pregnancy will suit any mother-to-be's bookshelf. Although a hefty volume (at 500+ pages), what it lacks in leisurely reading it makes up for in information.
Clearly written and cleanly organized, it has separate chapters for pregnancy, labor and delivery, and the newborn baby, with separate areas for complications and special considerations and decisions a parent might face. Moms rave about the valuable reference guide the Mayo Clinic provides and they swear that it's the only book they needed.
The Mother of All Pregnancy Books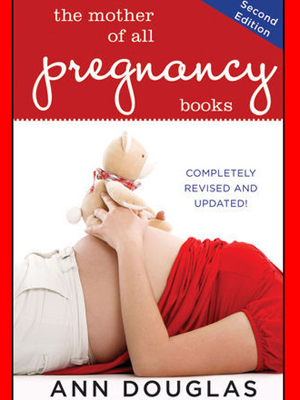 Ann Douglas's book, The Mother of All Pregnancy Books, covers just about every topic from conception to postpartum that you could possibly want to know about. It's thorough and detailed, without delving into a preachy tone. As a result, moms-to-be who want to be in the know love it.
"My go-to pregnancy book is The Mother of All Pregnancy Books by Ann Douglas. I love the balanced tone and the research-backed advice," said Taryn Mickus. Originally released in 2002, the second edition came out 10 years later with updated information from health professionals and input from more than 100 parents.
The Pregnancy Countdown Book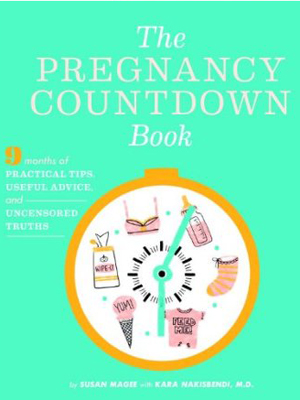 If you're looking for a book that has a page for every day of your pregnancy, look no further. The Pregnancy Countdown Book: Nine Months of Practical Tips, Useful Advice, and Uncensored Truths by Susan Magee will keep you company for every one of the 280 days that your pregnancy brings you. Real mom quotes accompany the friendly tone of valuable information on your baby's growth, as well as changes you are going through as the months go by. Tips and suggestions round out this book as your baby grows from a teeny embryo to a newborn baby.
What to Expect When You're Expecting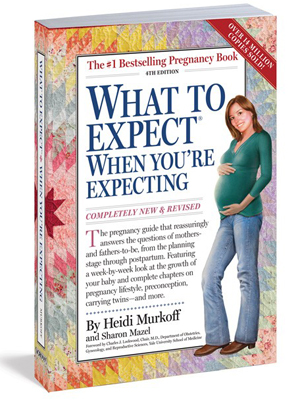 The thing about the What to Expect When You're Expecting franchise is that either moms-to-be love it or hate it. The long-revered book is like a dictionary of what could happen, and some of it is pretty scary. But for some moms, this is the book of books for pregnant moms.
"I was a devotee of What to Expect, and also What to Expect the First Year. I learned a lot about what I was going through in What to Expect When You're Expecting, and learned what to look for in the coming months from its successor," said Raffi Darrow, RDesign.
Other goodies
The Parent Trip by Jenna McCarthy is another favorite of moms, who love the tone and accuracy of the book. Jenny McCarthy's Belly Laughs is a light-hearted, but honest look at pregnancy as well, that many consider a must-read for the tough times of pregnancy (and there will be tough times).
Tell us
What is your favorite pregnancy book? Comment below!
More on pregnancy
Pregnancy food cravings: Are yours normal?
What to expect from the 20-week ultrasound
Maternity wardrobe essentials: Stylish basics