Eco-Friendly
Mom-To-Be
Using all-natural products during your pregnancy not only benefits you, but also benefits our environment. Here are some handy and all-natural products and earth-friendly tips to help you have a very eco-friendly pregnancy!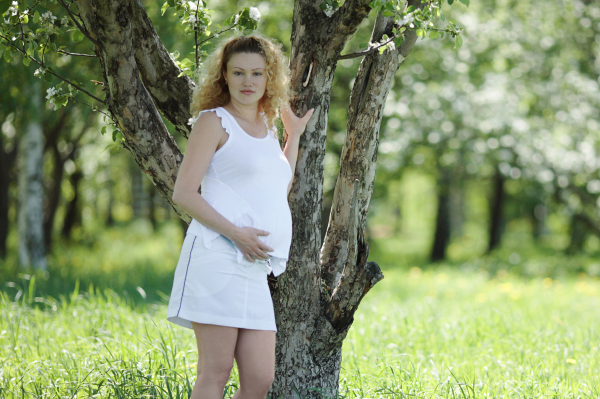 With a baby on the way, you are probably thinking about how you can stretch your dollar so that you can save your money for the new addition to the fmaily. You are probably also thinking about all the things that baby needs, and worried that you might eat or use the wrong thing.
If having an eco-friendly pregnancy is important to you, know that there are many products and services to help you reduce your carbon footprint even as your belly grows.
For the body
Your skin is so important, and it's no secret that during pregnancy, the skin around your midsection will stretch, stretch, stretch to make room for baby. If you want your skin to maintain it's usual elasticity (and avoid those pesky stretch marks), then you need to keep it hydrated. Cocoa butter is a popular lotion used on stretched out skin to help it keep its elasticity (great for burns too!). If you are looking for one without any icky add-ons, Palmers makes Palmers Organics Cocoa Butter Massage Cream for Stretch Marks ($10).
>> Can you avoid stretch marks?
Mama Mio, a company with a policy of "No Nasties" for its products, makes a slightly pricier option called Tummy Rub Oil ($35). According to the company, "After 15 years of trials, we know this is the best stretch mark protection oil we can make."
To clothe the body
Get ready for belly-friendly clothes! Moms to be have the difficult task of finding clothes to keep their belly covered that still make them feel good about themselves. Add eco-friendly to that list and it becomes a herculean task.
But don't worry. Instead of buying new, why not act in an earth-friendly way by shopping consignment stores? Check your local area and see what's around. Stick to gently-used pieces that fit and flatter you (just because you are going green doesn't mean you have to take whatever you can get!).
After that, hit the web. eBay always has a selection of maternity clothes for sale. There are also companies like BellyandBabe.com, an online consignment store dedicated to maternity clothes. The prices are higher than you will find at some other places, but the trendy designer duds are far less than their brand-new brethren in the big maternity stores. (Psst! They will also consign your gently used designer pregnancy frocks after you are done with them.)
"There might have been some stigma with buying someone else's castoffs -- but now, more and more consumers are looking for ways to cut corners. They're no longer seen as secondhand, but 'vintage,'" said Krista Karo, CEO and founder of Belly & Babe.
If new is more your style, check out Kai Kids (kaikids.com) for maternity wear. The store sells only Earth-friendly attire that is made with Earth-friendly materials. "For me, my first pregnancy five years ago really pushed me into a greener lifestyle, and raising a family eventually inspired me to start my own online store specializing in ethically-made, eco-friendly gear for babies and mamas," says Kai Kids Founder Nancy DeHart. "I now have two sons, 4 and 2, and another baby on the way, so all things eco and organic are top of mind for me."
Cleaning the clothes
Looking for green laundry detergent that really works well?
Method's line of eco-friendly detergents are great at getting clothes clean without bringing the bad stuff. The Method Laundry Detergent is safe for front-loading washers and concentrated so you can use less. Brands like Seventh Generation and Mrs Meyers also make green laundry detergents that will get all of your maternity clothes clean and smelling great.
>> How to make a smelly washing machine smell good again
For a very cool, and ultra-natural take on detergent, check out Soap Nuts. Soap Nuts are literally nuts from a tree that you place in a little muslin bag and wash along with your clothes. The natural nuts clean the clothes as well as any detergent, without an ounce of processing. You can also add essential oils to the nuts to make them let off a subtle scent. And since the nuts are both natural and reusable, they are very Earth-friendly.
If you're not wild about the idea of switching brands, there's something you can do right now that benefits your budget, the planet and your washer: reduce the amount of detergent you use in each load. Try half the usual amount and see how that works. Odds are, the only change you'll notice is that each box or bottle of detergent lasts twice as long! 
Read More: