Risky Or Relaxing?
Seeing a pregnant mom with a drink in her hand while pregnant is an unfamiliar sight in the United States. But a new study indicates that occasional drinks could actually benefit the child. Is drinking while pregnant okay?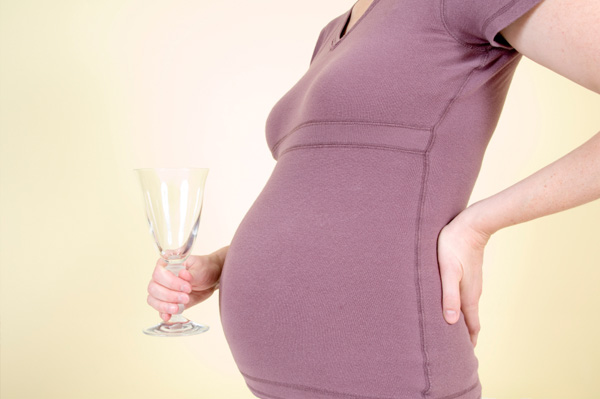 A new study that was published online in the
International Journal of Epidemiology
in October looked at the impact of low-levels of alcohol consumption by pregnant women, which they defined as no more than two drinks on any given day and on no more than two days per week. The study looked at more than 12,000 new moms. The moms were asked if they drank during pregnancy, how much, and followed the children through their early years to assess behavior. The result was a finding that moms who had a low-level of alcohol consumption during pregnancy actually had kids with fewer behavior and cognitive problems than moms who didn't drink at all.
While that might support the belief in other countries that a low amount of alcohol during pregnancy is okay, in the United States there is a different sentiment. The American College of Obstetricians and Gynecologists (ACOG) maintains that the only certain method of protecting fetuses from the dangers of alcohol is abstention. Other countries are less concrete.
Who's right?
There is no certain answer as to whether alcohol is safe or not during pregnancy. Medical professionals both in the US and abroad fall on both sides -- some saying that occasional drinks are safe while others say that alcohol is never okay during conception or pregnancy. They all, however, agree that drinking a lot of alcohol is unacceptable.
"The evidence is clear that significant amounts of alcohol are harmful. There is no evidence to show whether small amounts are harmful or harmless. The cardinal rule of toxicology is that the poison is in the dose; i.e., if the amount is small enough, even the worst toxins are harmless; in large enough amounts everything is toxic, even water," says Harriet Hall, MD, of The SkepDoc.
Psychologist Raymond Shred points out that there are many behaviors with potential risks that people avoid, so alcohol during pregnancy should be no different. "On the other hand, alcohol is a poison -- it has its affects by altering brain function -- inhibits and/or kills brain cells. It may or may not affect the fetus. But, I don't understand why anyone would want to take a chance. If you do a cost benefit analysis of the situation you get the following. Drink wine -- chance of harm to the fetus -- above 0%. Don't drink wine -- chance of harm to mother and fetus = 0%," says Shred.
Amount matters
No one is certain what the magic amount that is okay to have is. Having a drink - one drink - on a few occasions while pregnant is considered light drinking. Even having a glass of wine a few times a week is light drinking. But drinking every night or to the point of drunkenness? That's heavy drinking and can lead to serious problems with a fetus.
"One thing is clear and that is that dose matters. The more a woman drinks and the frequency has an effect. So a woman who has 2 glasses of wine 3 times/week through out pregnancy has more of a cumulative exposure than a woman who drinks a few cosmos 1-2 times in her pregnancy," says Nurse Practictioner Barb Dehn. "It's controversial because when a baby's born, most who've been exposed to small to moderate amounts of alcohol look normal. It's not until children are older, perhaps having social or cognitive issues, that the effects might be seen."
A personal decision
Given the uncertainty of how much is too much and how little is okay, some moms-to-be choose to avoid alcohol all together while pregnant. But the relaxing properties of a glass of wine, as well as the health benefits of red wine, lead other moms to indulge in a glass here and there.
"People who are very risk-averse will bend over backwards to avoid even the smallest possibility of risk; other people will conclude that the pleasures and nutritional benefit of an occasional glass of wine outweigh the small possibility of risk. It is an individual decision based not on science and evidence but on one's individual philosophy about the risk/benefit ratio and about playing the odds," Hall said.
When asked if they indulged in wine while pregnant, the resounding answer for many moms was yes. In fact, many said that their doctors and medical professionals advised them -- particularly late in the third trimester -- that a glass here and there was perfectly fine.
"Yes, I did drink wine when pregnant (4oz of red) 3-4 times a week. This WAS recommended by my nurse practitioner as I was on bed-rest for pre-labor contractions for the last 3 months of my pregnancy," says mom Susie Shina, a fitness lifestylist.
So did mom Shari Cashman. "The second of my pregnancies was high risk due to a full placenta previa. And absolutely I drank red wine during both pregnancies. My doctor encouraged it more so during my second pregnancy. He often told me he would rather me have a glass of wine to relax myself from the stress of a full time job, being pregnant AGAIN and taking care of an infant than cause myself any undue stress potentially resulting in bed rest. That was more than enough incentive. I do have to say that one glass did the trick," said Cashman.
The stigma
For moms who decide to drink while pregnant, there is a stigma that can be difficult to stomach. From waiters who won't serve them to friends who feel the need to add their two cents, the perception that any alcohol at all is bad is particularly pronounced.
For mom-to-be Lizz Stendera, the negative reaction came at her own home during a dinner party.
"My most interesting encounter was with a women five years my junior who is neither married or has children, but felt the need to tell me, 'You're not having a glass though." ... I, the hostess, was being informed by a guest that I could not possibly have any wine. I feel it's important that women, even if they feel they can't support one another's decisions, not judge each other," says Stendera.
Cashman ordered wine in a restaurant and could feel eyes upon her. "I ordered wine while visibly pregnant in a restaurant and I still remember a few of the glaring looks. Mostly from older women which really struck me as odd considering women my mothers age seemed to always have a martini and cigarette in their hands while they were pregnant," said Cashman.
Mom Nina Birnbaum says that the issue of occasional glasses of wine or even a beer is blown out of proportion by American society. In her opinion, "the whole issue of drinking while pregnant is overblown in the particularly absolutist American way. Yes, being a drunk is certainly bad for your fetus. However, having a glass of wine every so often with dinner probably does not cause irreparable harm. As usual, the authorities seem to feel that women can't be trusted to make competent decisions about our own bodies in this regard," said Birnbaum.
Sound-off
What do you think? Is an occasional glass of wine during pregnancy okay? Tell us below!
Read More: