Sarah Palin's
Power Suits
Whether you're voting Democrat or Republican, you can't help but notice how Republican VP candidate Sarah Palin has taken over headlines, blog posts, parodies and water cooler conversations. This hard-working mother of 5 always looks professional and pulled-together from head to toe. Although she's been rumored to have hired a team of stylists to dress her (and spent a reported $150,000 on clothes!), with Cindy McCain draped in couture who can blame Palin? Find out how to get Palin's working mom style on a working mom's budget.
(page 6 of 7)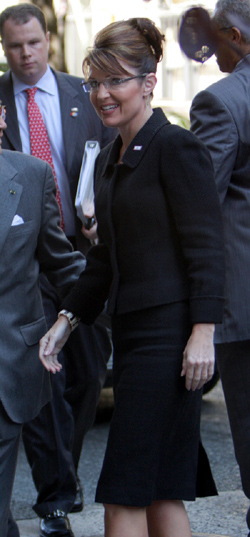 Simple in Black
You can't go wrong with wearing black from top to bottom. Not only is the color flattering on most skin tones, it's also a body minimizer.


Although Sarah Palin doesn't need help in either issue, this black skirt suit makes her look oh-so-professional, and at the same time, still quite stylish.


We found a similar number at www.smartbargains.com: The
Tahari by ASL Black 2-piece ¾-Sleeve Skirt Suit for $129.99. Black suits are extremely versatile because not only do they look fabulous when worn together, but they can easily be worn as seperates mixing and matching with other pieces in your work wardrobe.