Sarah Palin's
Power Suits
Whether you're voting Democrat or Republican, you can't help but notice how Republican VP candidate Sarah Palin has taken over headlines, blog posts, parodies and water cooler conversations. This hard-working mother of 5 always looks professional and pulled-together from head to toe. Although she's been rumored to have hired a team of stylists to dress her (and spent a reported $150,000 on clothes!), with Cindy McCain draped in couture who can blame Palin? Find out how to get Palin's working mom style on a working mom's budget.
(page 5 of 7)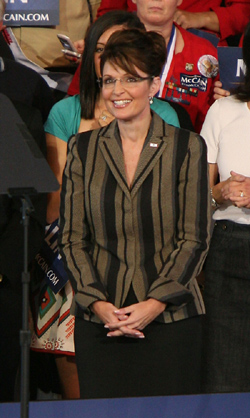 Striped Blazer
It's horizontal stripes that make you look wider, so you're safe with a vertically-striped blazer like the one Sarah Palin wore here.



We don't know where the VP candidate got her brown, charcoal, and black number, but we found an even cuter color-combo (
Women's Striped Blazer in Begonia-Multi) at www.chadwicks.com that showcases a similar style for only $19.99!
This striped blazer can be a great addition to your work wardrobe, allowing you to pair it with a number of coordinating pants. You can even wear a solid top underneath for even more variety.








More From SheKnows Explorer