Sarah Palin's
Power Suits
Whether you're voting Democrat or Republican, you can't help but notice how Republican VP candidate Sarah Palin has taken over headlines, blog posts, parodies and water cooler conversations. This hard-working mother of 5 always looks professional and pulled-together from head to toe. Although she's been rumored to have hired a team of stylists to dress her (and spent a reported $150,000 on clothes!), with Cindy McCain draped in couture who can blame Palin? Find out how to get Palin's working mom style on a working mom's budget.
(page 3 of 7)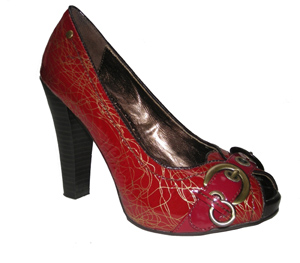 Red-Hot Pumps
Although its name leaves little to be desired, worn the right way -- like with a black skirt suit, which is what Sarah Palin did when she wore these shoes at the Republican National Convention -- these
Naughty Monkey Double Dare Pumps, available at www.endless.com for $89.95 can be quite stylish.
Hopefully, red's not your color because they're currently sold out. Instead, choose from more conventional shades like black, ivory and tan -- basic colors that are easier to match with your colorful wardrobe.