Sarah Palin's
Power Suits
Whether you're voting Democrat or Republican, you can't help but notice how Republican VP candidate Sarah Palin has taken over headlines, blog posts, parodies and water cooler conversations. This hard-working mother of 5 always looks professional and pulled-together from head to toe. Although she's been rumored to have hired a team of stylists to dress her (and spent a reported $150,000 on clothes!), with Cindy McCain draped in couture who can blame Palin? Find out how to get Palin's working mom style on a working mom's budget.
(page 2 of 7)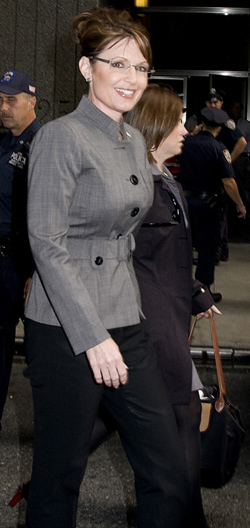 Belted Gray Jacket
Sarah Palin accomplished two hot fall trends with one garment. Gray is among the hottest colors of the season and belts are one of the hottest accessories.


The belt, which cinches her waist just right, also accomplishes the onslaught of the ladylike silhouette for fall.


We found a similar look:
The Parameter Stone Linen Belted Blazer, which retails for $139.99 at www.bluefly.com. Pair this blazer with pants or a skirt for a look that is fresh and professional.