Scott Free With SheKnows
"It is very much a boss-operative relationship," Ridley Scott says of the camaraderie between Russell Crowe and Leonardo DiCaprio in his Body of Lies. But the director of almost two-dozen riveting Hollywood pictures could be talking about his method of filmmaking.
(page 2 of 2)
The glory of Gladiator
Scott then describes the experience of directing Crowe in Gladiator and the film's impressive first battle sequence. "People always ask us where was that battlefield in Germania? It's actually four miles east of Gatwick (Scotland) airport," Scott says and laughs.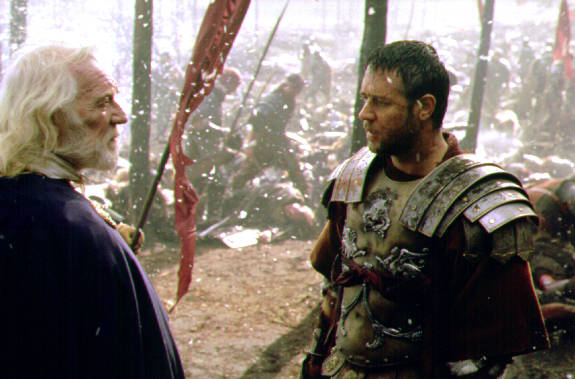 "Now that scene was pretty impressive, wasn't it? What I like is Russell had never seen it. I didn't want him to see it until he walks up on it and says, 'holy…,' and goes into the proscenium and becomes part of that world."
Ridley had a delight in filming the scenes with Leo and Iranian actress Golshifteh Farahani. Not only did it provide an emotional connection for a region, but allowed Scott to show his softer side."It starts to underscore Ferris' attachment and liking for the region that he's in. When it comes to the lunch that he has with her where she's even obliged to have a chaperone there, sister and two kids, afterwards she says how her sister wants to come to America. Ferris tells Farahani's character he'd switch passports with her. She replies, 'don't joke.' The thing is, he's not joking. You start to get a sense an attachment to this particular place."
An artist
Scott crafts his own storyboards, the artist drawings that lay the groundwork for the visual shot of each scene. As a former art student, he delights in this aspect usually reserved for another crew member."It's all about focus. I get lost and sit there and will doodle. I'll find the beginning of the movie in one picture," Scott admits."Usually, I'll find my stuff while I'm on the telephone. I have a book of doodles by the telephone. It'll be this big (he motions hugely with his hands) if the conversation is long."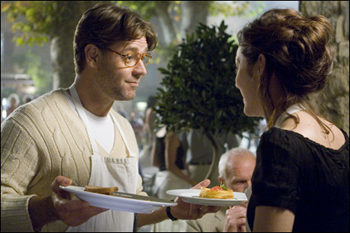 When Scott and Crowe teamed for A Good Year, the tale of wine and financial excess versus enjoying life one glass at a time, it fell on deaf ears. A heartfelt film, it is an honest hidden treasure.But Scott is not surprised at the reaction. "I think what happens, is people don't expect something from Russell and from me, so when you step into a new arena they're sort of taken aback by it," Scott says. "He (Russell) got beaten up mercilessly by the British press and French press. At the end of the day you can't give a (expletive) because all you can do is be your own critic. That's the key. Doing what we do, you have to be your own critic and judge. How it turned out - I'm very happy with A Good Year. The process was actually very graceful."Wherever Scott's lens is next pointed, we will be watching.
Related features
Russell Crowe's take on working with Leo again: for one, 'he can drink legally'
Leonardo DiCaprio turns the table and admits a few things about working with Russell Crowe
The SheKnows Body of Lies review