Get A Clean Stamp
You love the notion of using your baby's footprint on thank-you notes, Christening invitations and gifts for grandma. But getting a stamped footprint that doesn't resemble an ink blob often seems challenging.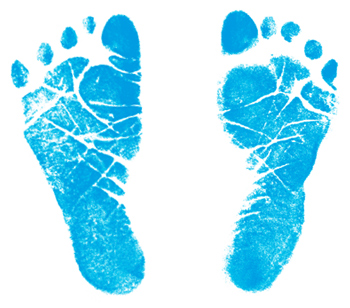 We've got sure-fire tips to help you not only get a super stamp, you'll manage to stay clean, too! And you'll get that cherished baby footprint to stamp and treasure forever.
How to do it:
Stamp your baby's footprint while he's sitting in his swing or high chair, or is on someone else's lap to keep him still. You don't want his non-painted foot to kick into the newly minted paint print. Before setting him in his chair or someone's lap, get all your supplies ready.
You'll need:
A bottle of fabric paint (or more than one if you plan on using different colors)
A few paper plates
A package of baby wipes
The item or items you want to stamp the print onto
A piece of cardboard (if the item is fabric)
A drop cloth, old rags or newspaper
A smock for yourself (babies with paint on their tootsies tend to kick and get paint on Mom's nice, new shirt)
Cover your work area with paper or rags and make sure all your supplies are within your easy reach.

Get your baby in place. Squirt fabric paint about the size of a walnut on a paper plate and smear his foot in the paint. Make sure to get paint on each toe, especially at the part of the foot where the toe and foot meet. Try to not overload his foot or else the print will look more like a smudged blob instead of a foot print.

Don't worry if the paint gets under his nails. It's non-toxic and will wash off. Before pressing his foot onto the item you're about to embellish, try a test print on a piece of paper or another paper plate to make sure you've got the right amount of paint to achieve your desired effect. And, don't use a paint brush since kid's feet are extremely ticklish and the soft bristles will cause him to pull away.

Bring the item to him, not him to the item, and press the item flat onto his foot, holding his ankle and foot still with one hand, and the item with the other. Hold his foot in place for just a few seconds as it doesn't take long for the paint to transfer to the fabric.

If you're making more than one print, you may need to reapply the paint, and make sure to wipe his foot and toes clean before switching to a new color. And, if you're transferring his print onto fabric, stretch it over the cardboard to prevent the paint from bleeding through.
Read More: