Accessorize
Your Options
People in need of braces today have a variety of options available to them. What you choose for your teenager will depend on his or her particular needs and your orthodontist's recommendations.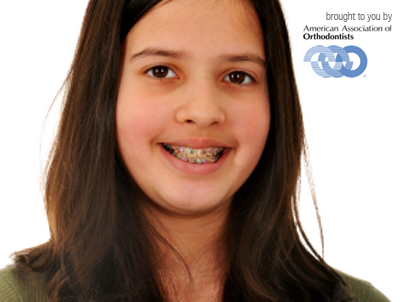 Types of braces
Braces are made of tiny brackets glued to teeth. They hold thin, strong wires that sit in bracket slots. The wires cause teeth to move. Traditional brackets are made of stainless steel, a versatile and long-lasting material. Because metal brackets are the industry standard, they are often the least expensive option.
A popular alternative, particularly among older teens and adults, are ceramic brackets. They are tooth-colored, so are less noticeable than traditional metal brackets. They are stain-resistant, although people who smoke or drink coffee or other dark liquids may eventually notice some discoloration.
Ceramic brackets may not be appropriate to correct all kinds of orthodontic problems. They can cost more than metal brackets. Unlike metal brackets, ceramic brackets may fracture. If this happens, the wire cannot deliver the proper amount of force to the teeth. So treatment progress may be delayed until a fractured bracket can be replaced by the orthodontist.
There are braces that go behind the teeth, called "lingual" braces. Not all orthodontists offer this option, and not all kinds of orthodontic problems can be corrected using this form of treatment. Adjustments and treatment may take longer as compared to traditional braces, and may be more expensive.
A fourth option for orthodontic treatment comes in the form of clear plastic trays. A series of trays are created, using a mold of your teeth as the starting place. Trays are changed every few weeks as teeth move. They are removed for eating. Trays may be able to successfully correct mild to moderate orthodontic problems. Like any removable orthodontic appliance, trays can only move teeth when they are worn as prescribed. Consult an orthodontist for an evaluation of individual problems and how they can be corrected. Orthodontists have two-to-three years of additional, specialized education in orthodontics after dental school.
Accessorize
Braces can make a fashion statement. Gold-colored metal brackets are available. Some brackets come in the shapes of hearts, stars and flowers. Tiny rubber bands that hold wires to brackets come in a rainbow of colors. These rubber bands are changed at every appointment, so patients can accessorize according to season in colors to match wardrobe, school colors or holidays.


Related articles
Does your child need braces? How to decide and find the right orthodontist
Questions to ask your child's orthodontist
The facts about braces
Preparing your child for braces
The new technology behind healthy smiles