Allowance Or Wages?
More and more parents are asking kids to earn their allowances. Here, three families share their systems - and the lessons they teach.
(page 3 of 4)
The approach: Outsourcing
The mom: Pamela Eyring, Columbia, SC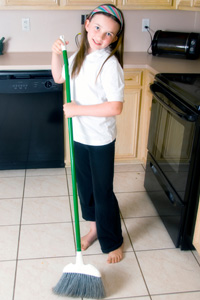 Her goal: When Eyring, who is in her 40s, tried to get Jacob, 13, and Alexa, 9, to do weekly work in exchange for an allowance, the household quickly fell into disarray. "They were overwhelmed," she says. But Eyring, who had recently begun running a school that teaches international etiquette, still wanted them to pitch in — and to develop a strong work ethic. Searching for a way she and her husband could motivate them, she thought of how she runs her business. "I subcontract jobs," she says. "So I decided to outsource some projects to my kids."
Her system: That was a year and a half ago. The Eyrings now expect the kids to perform a small list of basic chores, such as making their beds, for free. But when the parents need help with big projects (stacking wood in the yard, for example) they let Jacob and Alexa know — and if the kids choose to pitch in, they get paid for it. On average, this nets them about $15 a week, although sometimes Mom and Dad don't have any projects, so the kids don't earn any money — which gives them incentive to save. The Eyrings also encourage them to put half their earnings in a savings account for big purchases. The kids are free to use the rest as pocket money.
What the expert says: Insisting that Jacob and Alexa handle at least some small daily chores for free is a good idea, says Schwab Pomerantz, herself a mother of three. Requiring a baseline of unpaid help gives youngsters the message that all family members need to contribute.
Also, when they think of tasks as job outsourcing, parents are likely to suggest tasks that really benefit the household, says Schwab Pomerantz, and that's a good motivator for kids. Another plus of the Eyrings' system is that the parents control how much time their children spend working. Schwab Pomerantz's suggestion for the future: "As kids get older, they have to meet more demands from school and extracurricular activities, so the Eyrings may want to limit how many chores and outside jobs they let the kids take on and how time-consuming those are. Having busy teens spend several hours stacking wood may not always be the best choice for them."
Finally, the Eyrings are smart to encourage the kids to sock money away. "Making a practice of saving even just 10 percent of your income as early as possible will hugely improve your options later in life," says Schwab Pomerantz. "When you start saving young, it becomes part of your financial DNA."