Allowance Or Wages?
More and more parents are asking kids to earn their allowances. Here, three families share their systems - and the lessons they teach.
(page 2 of 4)
The approach: Allowance-plus
The mom: Stacy Kaiser, Calabasas, CA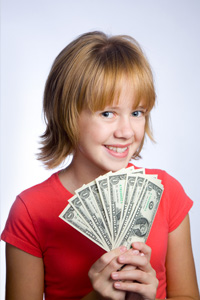 Her goal: As a divorced working mom in her 30s, Kaiser wants to make sure her two daughters understand the financial demands of the real world — including the fact that she can't provide as much money for purely discretionary spending as some of her neighbors. But she doesn't want her girls to feel deprived, so she came up with an "allowance-plus" plan whereby the kids get the money they need and she gets the help around the house that she needs.
Her system: Kaiser pays Jordan, 12, $5 a week in allowance; Katie, 10, receives $3, and both get raises each year. The girls are required to contribute to the weekly household upkeep, but their allowances aren't tied to specific chores. They can spend their dough as they choose. If the girls shirk their duties, they still get their money, but until the work is completed, Kaiser rescinds privileges such as watching TV or playing with friends. If one of them gets tired of a specific job, Kaiser lets her suggest alternatives — so Jordan recently quit cleaning the bathroom counters and started walking the dog instead.
Kaiser won't advance her daughters any money, in hopes that they'll learn to budget. But if they feel the need for additional funds, they can propose bigger projects to tackle for pay ("allowance-plus"). She also wants them to develop negotiating skills, so when Jordan offered to wash the car, Kaiser had her look up the going rate at the car wash, which was $9, and the two negotiated a fee of $5 for the job (Jordan got less than a professional because, as Kaiser told her, she didn't have as much experience and know-how).
Finally, Kaiser gives spontaneous extras if the girls have been behaving well — family movie outings and occasional small cash bonuses. "There's nothing better than when your boss tells you, 'You're doing a great job.' It's real motivation," says Kaiser.
What the expert says: Money coach Mary Hunt, author of Debt-Proof Your Kids, likes that Kaiser's system doesn't cut drastically into the kids' schoolwork or fun time. Also, Hunt adds, by letting her daughters decide when to propose paying jobs, Kaiser is helping them develop real-world entrepreneurial skills without too much pressure.
Enforcing penalties for not doing housework also teaches responsibility, says Hunt. But rather than curtailing privileges, she prefers "issuing citations" that require kids to pay their folks a substantial cash penalty. "It's the world's best deterrent," she claims.
Hunt was pleased to hear that Jordan is about to open a savings account, and she suggests that Kaiser reinforce the girls' long-term money-management abilities by shifting from a weekly allowance to a monthly, a switch she recommends all parents make once their kids turn 10. Sure, it's hard to watch your tween blow her money the day she gets it and then struggle, "but it's the only way she'll learn to plan," Hunt says.
Finally, Hunt approves of Kaiser's system of giving annual raises at the beginning of each school year — which works best, she says, if you simultaneously expand the list of purchases the larger allowance must cover.