Attention New Moms!
As told to Kate Meyers

Actress Kim Raver wants you to benefit from her sleepless nights: Here, the difficult (and wonderful) lessons she learned about taking care of yourself while taking care of your kids.
(page 4 of 5)
6. Let boys be boys
"I was at my son's school for Mother's Day, and there were three of us moms who looked like we had just fallen out of the washing machine: Our hair was sticking up, our clothes were totally mismatched and rumpled. And I see this other group of women who are completely coiffed and pressed and perfect, and I was like, What's the deal?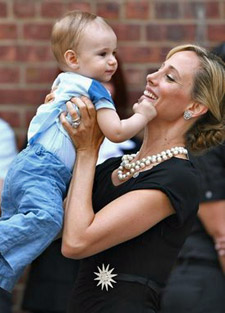 And the mothers who were disheveled, our boys were on tricycles and scooters, and there was this huge pile tumbling in the dirt, and we were trying to separate them. And the completely pulled-together group, all of their kids – all girls! – were sitting at a table, having a little tea party, and I was like, There lies the difference.
I know it's a total stereotype and I am totally a feminist, but I gotta tell you: I will go out to dinner with Brooke [Shields, Kim's Lipstick Jungle costar] and her girls. And, granted, my son is really chill. He's really chill, but still he'll be climbing up over my head while Brooke's daughter Rowan is just sitting there. But I love it. I love having boys."
7. Notice everything
"This morning, Luke and I were running out the door to his school, and he was in his corduroy jeans and his little boots and his corduroy jacket with his cool little hat, and he started skipping. And so I started skipping down the street with him singing, 'Skip, skip, skip to my Lou' and I was like, Oh, my God, and I had this flash of the streets of New York and the taxis and the smell of winter and snow, and it reminded me of my childhood, which was great.
"I really can't imagine my life without the experience of being a mom. When my son hugs me and tells me, 'I love you so much,' it makes everything ... 'cause there are moments when you're like, How am I going to do all this? I'm up making Luke's lunch, packing him up for the day. I'm trying to read and memorize my lines. I worked till 4 in the morning, but I got up at 5:30 because I'm nursing, and I gotta get my kid ready. But when I'm with my family, it's amazing to think, Wow, my husband and I made these kids. It's this very simple, natural thing, but it's just great. I wouldn't trade it for anything."
Continued on next page...