Attention New Moms!
As told to Kate Meyers

Actress Kim Raver wants you to benefit from her sleepless nights: Here, the difficult (and wonderful) lessons she learned about taking care of yourself while taking care of your kids.
(page 2 of 5)
2. Know that it gets easier
"The whole week after you give birth is so intense: You're recuperating and nursing, and you're exhausted. But it's kind of like, Oh, my God – for me at least – and, not to sound all weird or profound, but it's kind of, That's why I'm on this planet! But I also remember being so tired with my first one and thinking, Is the rest of my life going to be like this?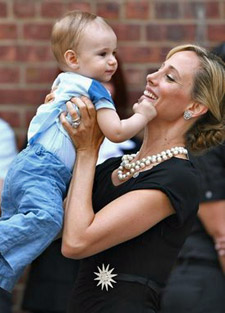 With Leo, it's gotten incrementally easier. I've started being okay with the sleepless nights because I know I won't be nursing every two hours for the rest of my life. And my husband and I are so much more relaxed as parents. Whereas whenever Luke cried, I was in complete angst and stomach turning, Oh, my God, what's not right? What's happening? I remember Luke getting a cold when he was a few weeks old, and I was a basket case. And then recently Leo got a cold – and he got a cold. With Luke, I was so worried about every little thing. With Leo, who I hear crying in the other room right now, I'm like, 'Okay, let's solve the problem.... What is it?'"
3. Play dinosaurs whenever possible
"Kids are so in the moment, and I learn from mine every day. Sometimes when I'm running around trying to get ready for work and trying to nurse Leo, Luke will be in the corner, playing with his dinosaurs. That's what's important to him, and it really brings me into what's important. Yes, you have to be the adult and get things done, but you can also take a few minutes and play dinosaurs, because life's too short. My kids give me these amazing reminders to love life and not get caught up in all the ridiculous minutiae that we do get caught up in.
"Another example is that because of my career, I can't always nurse Leo at home. So wherever I am with him – in my trailer or dressing room – I stop everyone and everything and make sure that is our time. People always want something from me; I'm sure so many parents feel that way. But sometimes you have to close the door and tell yourself, It's okay to take this time with my kids."
Continued on next page...