Attention New Moms!
As told to Kate Meyers

Actress Kim Raver wants you to benefit from her sleepless nights: Here, the difficult (and wonderful) lessons she learned about taking care of yourself while taking care of your kids.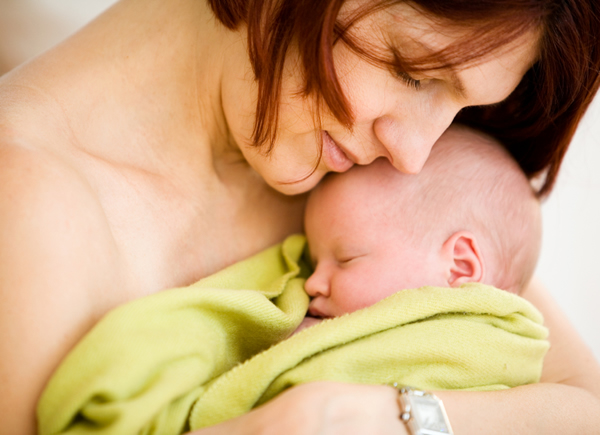 Kim Raver is between feedings. The 38-year-old actress has grown accustomed to this frequent and seemingly fleeting state since October, when she brought her second son, Leo, home from the hospital. It's during these between times that the rest of her busy life takes place.
"The rest" encompasses plenty: working 15 hours five to six days a week taping Lipstick Jungle, NBC's new dramedy about three high-powered Manhattan working women; taking 5-year-old son Luke to school, after a few minutes of playing dinosaurs; catching up with her husband, filmmaker Manu Boyer; frosting a homemade birthday cake; sewing a Halloween costume; sleeping a few hours; and, oh, taking the occasional shower.
This life-as-spin-art juggle of career and motherhood has been part of the native New Yorker's world ever since Luke was born, and now that Kim's a mom of two, the pace doesn't show any signs of slowing. Luckily, she's learned a thing or two (or seven) since her first go-round at motherhood, and she's passionate about passing them on.
1. Recruit family and friends
"The day after I came home from the hospital with Leo, my mom came over. I had had a C-section and I was so sleep-deprived – I'd been getting up to play with Luke so he wouldn't feel left out – and completely disheveled. I just felt like a mess.
"So my mom walked in with this cooler bag. She walked me into the kitchen and put the cooler on top of the counter and she started pulling out all this Tupperware. She gave me this piece of paper and was like, 'Okay, here's the menu.' She had made five meals, each of which had about three courses. And I started crying. Because all the meals were comfort food that she used to make for me as a kid. Except she had adapted them because she knew I would be squeezing into my work wardrobe in four or five weeks. So if it had originally been a heavy-cream sauce, she'd made a horseradish-yogurt sauce instead. And she'd made an apple-potato puree because she knew the apples would help my digestion; after a C-section, you need fiber. Basically my mom had factored all my needs into each of these low-fat, high-protein meals.
"I was so moved because it wasn't just food, it was an incredible gesture of motherhood. My mom – who raised me and my older sister on her own – realized how hard it is with a new baby. She had taken the time to make these meals in order to take care of me, so that I could take care of my sons. I'm crying right now just talking about it. So my advice is, for your baby shower, instead of asking for a closetful of stuff you don't end up using, ask a family member or a friend who loves to cook – or ask five friends – to make a meal for you when you first come home. It's so amazingly comforting to have that."

Continued on next page...