When And How
To Say "No"
Our world - and especially the world of school-aged kids - is more and more digital, but as your kids go back to school this fall, should they take their digital gadgets with them? Can you be sure that Nintendo DS will only be used during lunch breaks? Will your kid get in trouble for taking a cell phone call during school hours? In some cases, these decisions are made by schools, but if your child's school has a more open policy it can be difficult to know what rules you as a parent should enforce in regards to gadgets. Kids are "plugging in- at younger ages so these are issues that affect parents of just about any student.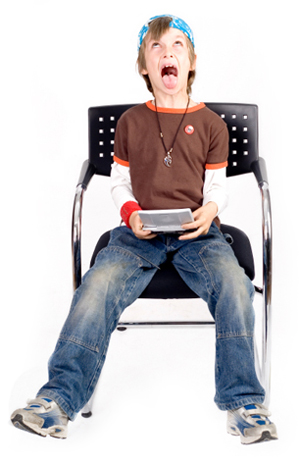 Many devices nowadays do double duty as day planners, note taking platforms, research assistance and much more – which is why it's wise to know exactly what that gadget your kid "just has to have" actually does. Even with schools banning certain electronics, it's going to be difficult if not nearly impossible to keep every gadget out of your kids' hands. So you'll have to do your best to make sure your kid is doing what she should be doing while at school – learning. If that means a little help from an electronic planner, that may be the case. But you'll want to do what you can to make sure no games are getting snuck into classes under to guise of a day planner, note taker, etc. Teachers have enough on their hands without having to police every kid with a gadget.
Aside from the "could it get stolen" question, and putting school-specific rules aside,  arguments have been made that iPods and gadgets of that sort should be an integral part of of a learning experience. Beyond the aspect of potential theft, some schools choose to ban the devices because they are afraid they will be used as a means of cheating. One teacher stated his point by saying that many students simply get through school by rote memorization – if instructors are creating tests that are so "basic" they can be cheated on by using an iPod, they're not really teaching kids how to think which is what school should be about. Of course, many of these decisions happen on the school board level and if your school has already banned iPods – or other electronics - there may be little you can do if you disagree besides voice your opinion to the board.
Cell phones can probably be one of the biggest problem areas between kids, parents and schools. Many people nowadays are giving up their home phone in exchange for cell phones and with all those great family plans out there, why not? This makes it a virtual necessity that your child have a phone, but it also may mean you'll have to fight some battles. In many cases it comes down to an issue of trust – giving your child the freedom to make their right choices about when to use their phone. Of course, you can always check up on them after the fact by checking your phone bill and statement of calls. This knowledge may be the extra boost they need when it comes to deciding whether or not to use their cell during school hours.
Related back-to-school articles
Time for what?
12 must-do rules for back-to-school
Getting over back-to-school fears
[PNP keyword="THEFT" points="50" start="2008-08-26" end="2008-08-31"]