Mamas Going For The Gold!
Most people can't imagine training for an Olympic sport, let alone doing so while raising young children. But for Olympic moms, motherhood and the pursuit of their dreams go hand in hand. Who are these amazing mom-letes? Check out our slideshow of the top 6 amazing Olympian moms.
(page 4 of 6)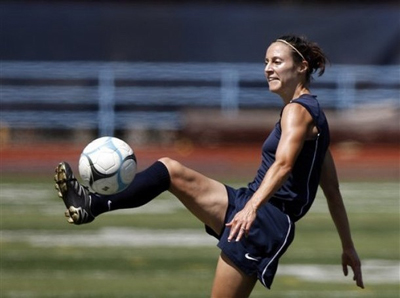 Kate Markgraf
Kate Markgraf, 32, is mother of two year old Keegan and plays soccer for the U.S. "I think being a parent puts you at an advantage," Markgraf, 31, told NBC. "I don't sleep nearly as much as my teammates. But my best game since becoming a parent was after I stayed up the entire night because my son was teething. And I ended up having the best game of the year. So I think it's definitely an advantage because it just puts everything in the right perspective."
What advice would she give her boy? "The one thing I want my son to learn is that you don't have to be the most talented. You don't have to be the fastest or the most skillful," she says. "You just have to have a lot of heart. I'm not the most skillful person on my team, I'm not the fastest on my team. But I bust my butt, and that's the reason why I've been on the team for 10 years."