Kid-Friendly Tips
For Breakfast
Is breakfast one of the last things your kids think of in the morning? Are they cranky and tired by mid-morning and eating junk food by noon? Do you need quick and simple solutions to get them to eat before bolting out the front door? If so, these easy tips will get your kids to the breakfast table and make them happy they aren't skipping the most important meal of the day.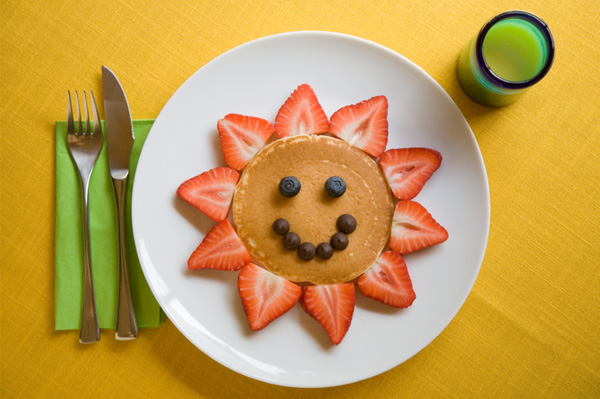 Tips to get your kids to the breakfast table
Give your kids a reason to sit down and eat a morning meal. If you've been putting a box of cereal and jug of milk on the table in hopes they will eagerly feed themselves, it is no wonder they couldn't care less. Kids want to be entertained, so give them a breakfast that is fun and exciting.
1. Turn breakfast into a family affair
Let your kids help plan, prep, and serve breakfast. Teaching them cooking skills early in life will better ensure they become adults who eat more meals at home rather than in the drive-thru. And, best yet, cooking with your kids lets you spend quality time together. Let them break or whisk the eggs, mix the pancake batter, toss a fruit salad, pour the juice, or simply set the table.
2. Have breakfasts from around the world
Feature a different breakfast dish from another culture, country or ethnicity every week -- and, if they're old enough to do a little research, have your kids find five fun facts about it. Not only will they get to sample global cuisine -- such as huevos rancheros (Mexican), muesli (Swiss), or chapati and chutney (South Indian) -- they also learn about the people of other nationns. Keep a globe or world map in the kitchen and show your kids the country or continent from which their breakfast originated, and have them take turns choosing places for their next breakfast from around the world!
3. Make breakfast art
There are many ways to add creative fun to breakfast. Swirl fruit jams (or drops of food color) into pancake, waffle or muffin batter. Use animal-, alphabet-, or number-shaped cookie cutters on the griddle to mold pancakes or eggs into different shapes. Cut fruit or toast into circles, ovals, squares, and rectangles so your kids can learn geometry and make abstract arrangements on their plates. Let them "paint" their toast with pastry brushes and different jams or bread spreads. Let them use dried fruit and assorted nuts to give waffles or yogurt a "face" or some other artistic touch. Breakfast art is a delicious way to inspire your children's creative side.
3. Personalize breakfast!
Personalizing breakfast is fun for the whole family -- and there are many ways to add enjoyment and a custom touch to breakfast. Try swirling fruit jams or drops of food color into pancake, waffle or muffin batter for a colorful surprise. Use cookie cutters shaped as animals, letters or numbers on the griddle to mold pancakes or eggs into different shapes. Cut fruit or toast into circles, ovals, squares and rectangles. Let your kids further personalize their waffles or pancakes with syrup or different jams/spreads, fruits and nuts.
4. Take breakfast outside
Nature is one of the most enriching environments for your kids. Instead of eating breakfast in front of the TV or computer, usher your kids to the backyard to enjoy their morning meals. You can even pack a picnic basket and visit a local park, beach, or campground. Opt for easy to tote meals, such as PB&J toaster waffle sandwiches, oatmeal in individual-sized thermoses, cut up fruit in plastic containers, and breakfast bars. There is no better way to start the day than with a good meal, fresh air, and the sounds of the great outdoors. Even better, connecting your kids to nature through breakfast feeds both body and soul.
5. Make a favorite meal
Let one day a week be a "favorite meal" breakfast. Each of your children (or Dad) get to choose breakfast based on their favorite dish. It can be a breakfast, lunch, or dinner recipe. This will keep the kids looking forward to eating breakfast and it will teach the family a little bit more about each other. Do you know your kid's favorite meal?
Get your kids to the breakfast table and enjoy a fun family experience!